The Ho Chi Minh City Department of Education and Training held a meeting yesterday to assess the school academic year 2010-2011 and also introduce an additional 1, 095 classrooms for the next session.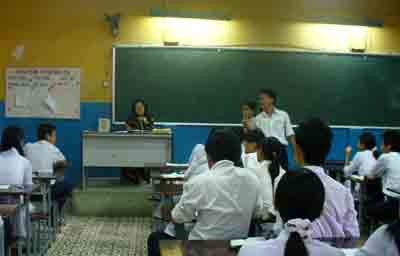 A history class in Tran Khai Nguyen High School in HCMC (Photo: K. Thy)
VND3, 700 billion (approx. US$176.2 million) has been invested in renovating or constructing 1,095 new classrooms to cope with the demand in the next academic term.
Deputy Minister Nguyen Thi Nghia, Deputy Secretary of the city Party Committee Nguyen Thi Thu Ha, HCMC People's Committee Chairman Le Hoang Quan, HCMC People's Committee Deputy Chairman Hua Ngoc Thuan were present at the meeting. They were unanimous in their decision to implement compulsory education at the age of 5 in all the city's 24 districts.
Le Hong Son, Director of the Department, announced that in previous school years, all schools in the city supported the motto 'Friendly School – Active Students' and implemented innovative programs such as useful learning methods, green and clean schools, efficient teaching and life skills training for young people.
Son added that the city was proud of having conducted the last examinations efficiently, with 97 percent students graduating from high school, 19.83 percent of who received distinctions. Nonetheless, additional facilities are constantly required to keep pace with the high demand for education.