"Although Ho Chi Minh City did a better job than other provinces of achieving national education targets, we should not become complacent", said Huynh Cong Minh, Head of the Ho Chi Minh City Department of Education and Training at a meeting held to implement an action program set out by the People's Committee of Ho Chi Minh City.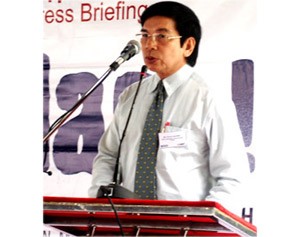 Huynh Cong Minh, Head of the Ho Chi Minh City Department of Education and Training (Photo: U.Phuong)
"On the contrary, we need to find solutions for a lot of weaknesses that still remain in the system so that we will be able to meet the demands of global integration", he added.
The overall aims of the program are 1) to revamp the education system in order to raise the standard of quality and 2) to stamp out corruption.
Problems facing the Department are numerous, for example, many teachers intentionally giving their students lower marks than they deserve in order to convince the children's parents that they should pay the teacher to provide private tutoring outside of regular school hours at the teacher's home.
Authorities must also prevent schools from collecting enrollment fees in excess of standard levels set by the government and fraud in the examination system also needs to be addressed.
In addition, a situation exists where parents must pay a significant amount if they wish to send their child to a school other than the one in their own neighborhood.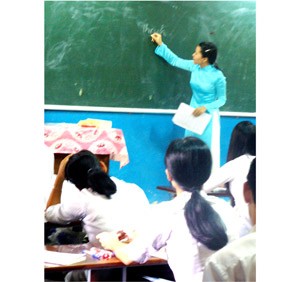 Shortage of teachers at all educational levels is a headache for educational authorities (Photo: U.Phuong)
The Department must also deal with a looming problem related to a projected teacher shortage in the next four or five years.
As a starting point for developing solutions, the Head of District One's Department of Education and Training, Tran Thi Kim Thanh, has suggested that widely read newspapers in the city open a forum allowing the general public to brainstorm ideas for improving educational quality.
Ngo Van Tan, Head of District Six's Department stressed that one of the biggest problems facing the city is the simple fact that there are not enough schools.
He went on to suggest that the People's Committee must therefore be more determined to take unused land back for building schools.
Speaking at the meeting, Standing Vice Chairman of the Ho Chi Minh City's People's Committee, Nguyen Thanh Tai, clearly stated that the Party, the public and the teachers must work together to deal with the situation.
He then went on to ask the heads of respective education and training departments to consider whether recent increases in education funding by the government are appropriate to the task at hand.