FPT University is the first private university in Ho Chi Minh which will be able to exercise autonomy in enrollment, curriculum, training programs, teaching staff, and facilities management under a decision by the Education and Training Ministry.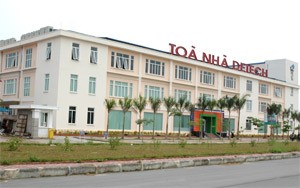 FPT university in Ha Noi ( Photo: T.Nga)
Deputy Minister of Education and Training Banh Tien Long Wednesday signed a resolution where, as of this year, decisions such as what training courses to offer and how to allocate university enrollment figures will be left in the hands of the administrators of FPT University, as long as they still conform to the government regulations restricting certain subject matter.
Under this new agreement the university will run five courses covering computer science, computer technology, software technique, communications systems, and information technology. The targeted enrollment is around 500 students.
The deputy minister said the ministry approved the proposal of planned autonomy for the university, but stressed that the university must deliver supplementary pedagogic training to its teaching staff while strictly follow the ministry's regulations on subject in social sciences and the humanities, including physical and national defense training.
Links:
First Private University in Ho Chi Minh City to be Established
FPT University Receives License