A finance mechanism must be created to promote investment in education, participants in a seminar organized by the Ministry of Finance and the Ministry of Education and Training on March 18 in Ha Noi agreed.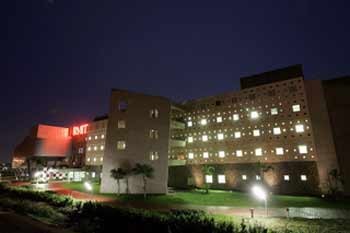 RMIT (photo) is the first foreign-invested university in Viet Nam. The government encourages all economic sectors to invest in building higher education facilities.
Government funding for education is very limited, Deputy Prime Minister and Minister of Education and Training Nguyen Thien Nhan told members of the 12th session of the National Assembly.
Spending on tertiary education increased 2.4 times during the period 2002-2006 and accounts for 10-12 per cent of state budget for education nationwide, according to Tran Duy Tao, deputy chief of MoET's Financial Planning Department.
The sector has experienced yearly increases in spending, but this money covers only salary and subsidies for teachers. Educational institutions face a severe shortage of funds for equipment, research documents, and facilities, directly affecting quality of education and the sector's ability to improve.
Some schools violate ministry rules by collecting higher fees from students than the government allows, something that has recently caused public concern.
Private schools face additional difficulties when they request government assistance. Financial matters play an important role in quality improvement, according to Professor Tran Huu Nghi, the president of Hai Phong Private University.
A school's funding depends greatly on student fees, but school leaders must consider what fee level is suitable for students, he added.
The government does not give private institutions the preferential treatment their state counterparts get with respect to land allocation or taxes. The government's investment in the private sector is willy-nilly, Mr Nghi said.
State expenditure has not met the demands of tertiary education and the rate of university graduates stands at 15 percent, which is lower than that in either the Organization for Economic Cooperation and Development or the Association of Southeast Asian Nations, said Mr. Jeffrey Waite, an education specialist at the World Bank.
The government should help private schools that are qualified financially.

A new tuition fee collection proposal will be submitted to the government, said Mr. Nguyen Viet Hong of the Ministry of Finance. Under the proposal, means testing will determine school fees.

He called for more government incentives for domestic and foreign organizations and individuals to invest in building tertiary education facilities to supply highly skilled people who can meet the demands of the modern era as the nation integrates into the global economy.

Mr. Tao backed Mr. Hong's proposal, adding that the government should encourage the establishment of high quality private institutions with higher university tuition payments for children from rich families who wish to pursue education in quality schools.
The government should also facilitate land allocation for educational institutions, as well as offer tax exemptions on land use and loans, Mr. Tao added.

Parents can improve their monitoring of educational quality, lecturers and spending for teaching and facilities, said an official from the MoET.