More than 134,000 of the 400,000 or so twelfth-grade students who resat the final school exams managed to pass the second time around, the Ministry of Education and Training announced yesterday.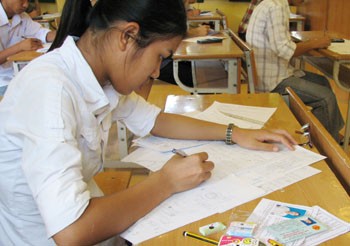 Tweflth graders resit the final school exams
Combining them with the students who passed first time, more than 80 percent of the million-odd children who sat for their final exams this year scored a pass or better. Last year the ratio was over 90 percent.

The Ministry of Education and Training has suggested three options for the 260,000 unsuccessful examinees: repeat 12th grade at high school or vocational school, sit in on the classes again and wait for next year's exam, or learn a trade at vocational school.