University graduation is not the only path available for young people to make their way in the world, said Dr. Nguyen Duc Nghia, deputy director of the Ho Chi Minh City National University. They can also enter colleges or vocational schools and if they study hard, they have a good chance of finding jobs, he said.
He made the statement March 24 during an online consultation held by SGGP for high school students and their parents. The forum aimed to provide information and answer students' questions about the upcoming national university and college entrance exams.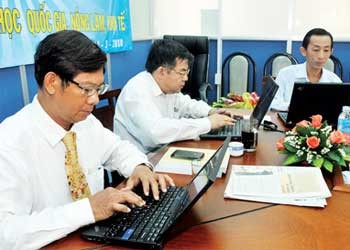 (From left) Dr. Nguyen Duc Nghia, Dr. Huynh Thanh Hung, and Associate Prof. Tran Hoang Ngan at the online consultation held by SGGP Online on March 24 (Photo: SGGP)
Many participants asked how to go about selecting a good faculty and school.
In response, Mr. Nghia said that when choosing a university, college, or vocational school, students must consider their personal interests and ability.
Students should find out what their strengths are and not persist in a field if it is not the right fit for them, he advised.
Students also asked how to avoid mistakes in preparing dossiers for the university entrance exams and about what changes have been made to the exam regulations.
On the topic of choosing particular faculties of study, students Tran Hoai Vong and Huynh Mai, asked: "Among the economic faculties, which one will help graduates get a job easiest?"
Associate Professor Tran Hoang Ngan, vice headmaster of the HCMC University of Economics, said: "In the next four years, career trends may change remarkably, since the economy then will be different from now. When the economy rebounds and takes a great leap, several other fields, not only economics, may have a higher demand for workers."
Currently, banking, finance, auditing, accounting, and business administration are the fields that have high demand for employees, he added.
Mr. Ngan also emphasized that students with excellent grades will likely be scouted by head-hunters and should not have to worry about searching for jobs.
Bui Thanh Tinh, a student at An Lac High School, said: "Since our country was admitted to the WTO, foreign companies have increasingly showed interest in doing business in Vietnam and many of them require consultancy on Vietnamese laws. What advice would you give to students who want to pursue this career path?"
Mr. Ngan replied: "You can study business law at the HCMC University of Economics. Legal knowledge, especially business law, is crucial in a market economy and for international integration. Therefore, the demand for law graduates, especially in business law, is on the rise."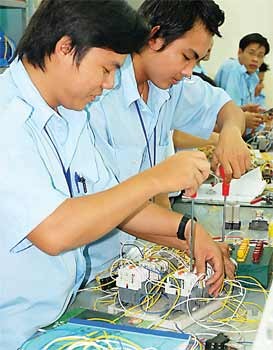 Students learn at the HCMC Technical Teacher Training University. When choosing a university, college, or vocational school, students must consider their interests and ability, said Dr. Nguyen Duc Nghia of the HCMC National University. (Photo: SGGP)
In response to inquiries about which subjects students should study in order to enter the field of official development assistance (ODA) management after graduation, Mr. Ngan said: "Students can study such subjects as investment planning, financial management, and quality administration."
Student Nguyen Tran Nam Khanh asked why the Economics University applies only one qualification mark for candidates of all faculties and whether this was fair and reasonable.
Mr. Ngan replied: "After studying together for the first three semesters, students will register for their preferred faculty. However, they will only be approved when their grades from the previous three semesters qualify them for their chosen faculty."
Many students also showed interest in programs offered by the HCMC University of Agriculture and Forestry. One student said: "I like nature but I'm afraid to enroll in the school since I was told that after graduation I will have to move far away from my family in order to work in the sector."
Dr. Huynh Thanh Hung, vice headmaster of the university, replied: "The school offers various subjects and diverse training programs, so graduates can work in many different fields, depending on their preferences. Not all faculties force graduates to move to remote forests or sea locations."
Some students also asked whether they should choose programs based on their personal interests or on the likelihood of securing work in a particular field after graduation.
In response, Dr. Nghia said: "This issue should be addressed based on many factors including students' personal ambition, their aptitude and grades, and also to what degree workers are in demand in a particular field.
"Ideally, however, students should enter the faculty they are most passionate about, since this will encourage them to study and achieve good grades. This will ultimately make it easier for them to find jobs," Dr. Nghia added.