HA NOI (VNS)— The National Assembly Standing Committee yesterday questioned the feasibility of a US$1.7 billion national draft project to reform school textbooks and curricula, saying that it was too costly and lacked clear direction.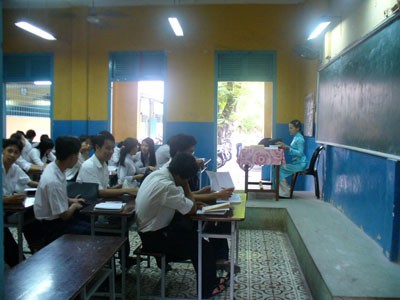 An English class at Tran Khai Nguyen Senior School in Ho Chi Minh City(Photo: C. Tuong)
According to Deputy Minister of Education and Training Nguyen Vinh Hien, the need for the NA to issue a new resolution was urgent as the previous resolution was 14-years old.
"Our textbooks are now too theoretical, are not practical and do not pay enough attention to teaching other skills necessary to succeed," Hien said. "Many of the topics and knowledge covered are too heavy, especially for ethnic minority students and those who live in mountainous areas."
In addition, some of the content in different grades overlap. Materials presented at secondary level are not preparing students well for university or vocational schools, Hien said.
According to the draft, the project will be carried out from October this year. During the first phase, experimental textbooks for the first, sixth and eighth grades will be composed. Textbooks for the remaining grades will be created from 2016 to 2020.
After the new curricula and textbooks are evaluated, the new curricula will be phased in throughout the nation to suit the needs of individual schools and ethnic peoples.
Some of the proposed changes include equipping students with skills for self-learning, communicating, logical thinking. The changes would also allow them to choose optional subjects at high school level, and require them to memorise less and be more creative.
The draft project recommends that education departments at the provincial level could adjust the national curriculum to the conditions at the local level.
Do Trong Thi, chairman of the NA Standing Committee for Culture, Education and Youth Affairs, said the Education Ministry must receive further consultation from education experts, foreign and domestic, scientists, education managers and teachers.
In addition, he said there must be separate national initiatives and commitment to increase the quality of teachers at all level and teaching infrastructure.
"We have to reform teaching curricula at teaching schools and build a clear-cut strategy of investment for developing teaching infrastructure that must go along with this reform effort," Thi said.
Other NA members expressed concern at the cost of the project and the plan of implementation.
Truong Thi Mai, chairwoman of the NA Committee for Social Affairs, said she did not feel that the Education Ministry had fully assessed the effects that this could have on the human resources and socio-economic development.
Mai said the Ministry should be in charge of national curriculum, but could allow the private sector to engage in producing textbook materials and monitor the quality.
NA Chairman Nguyen Sinh Hng also worried if teachers would be ready to start experimenting with new textbooks from 2016 since the deadline was close.
He asked the Education Ministry to provide clear assessment on how the resolution issued in 2000 affected the education reform at secondary and high school level.
Phan Trung Ly, chairman of the NA Committee on Legal Affairs, agreed on the need to assess past efforts, saying that: "If we have to spend nearly 2 billion US dollars, it is not a small figure. We need to figure what have been doing right and what we have been doing wrong."
Kso Phuoc, chairman of the NA Committee for Ethnic Minorities, said the system must focus on providing a foundation for students to study throughout their lives.
Deputy Minister of Education Hien said the Ministry acknowledged these concerns, adding that the breakthrough would be in allowing students to absorb knowledge actively instead of through the current passive approach.
The Ministry will soon expend resources on retraining teachers and identifying requirements in terms of facility that schools must meet, he added.
In the afternoon session, the NA Standing Committee also gave opinions on the draft Law on Vocational Training.
According to Minister of Labour, Invalids and Social Affairs Pham Thi Hai Chuyen, this law, effective since 2007, must be updated so that vocational training can be made more attractive to students, many of whom prefer universities and colleges.
The new draft law will enhance the role of enterprises in vocational training, diversifying the type of vocational training and allowing students to choose their own training course accordingly to their needs and conditions.
Most of all, the new efforts will focus on tightening the vocational training with market needs and provide a mechanism to allow business and schools to cooperate.
Both the draft NA resolution on reforming textbooks and curricula and the draft law on vocational training could be submitted for the NA general session in May.