To improve the quality of higher education in Vietnam, instructors must be encouraged and supported so they can provide the best education possible, Deputy Prime Minister and Minister of Education and Training, Nguyen Thien Nhan, has said.

He made the statement on March 20 at a conference in Hanoi to discuss implementing a decision of the Prime Minister on higher education as well as the ministry's action plan on revamping the country's higher education system.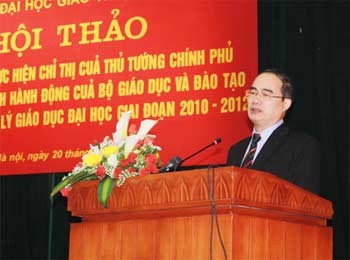 Deputy Prime Minister Nguyen Thien Nhan speaks at a conference March 20 in Hanoi on renovating Vietnam's higher education system. He asked that universities strive to enhance the quality of education and improve teachers' living conditions. (Photo: Giao duc & Thoi dai)
Speaking at the conference, headmaster of the National University of Transport Tran Dac Su, said that currently, there is too great a focus on awarding large numbers of degrees and that more attention should be paid to the actual quality of education in Vietnam.

Only when the trend reverses will the reputation of Vietnamese universities improve, he said.
Educational institutions should strive for a balance between operational expansion and training quality, and between societal demands for graduates and training programs, Dr. Su added.

To promote and maintain their "brand," universities must renovate management, update training programs, and improve teaching methods, he said.

Meanwhile, a lecturer at the University of Transport said that if the State and Ministry of Education and Training want to turn out high-quality educational products, they must give more support to those studying science.

In addition, the State should adopt a supportive policy towards teachers to help them focus on their work, improve legal frameworks to encourage self-directed universities, and invest more in teaching facilities at universities, Dr. Su said.

Mr. Nhan said: "The ministry will provide universities with financial support and assistance in teacher training and international cooperation so that they can meet their educational targets."

All universities must publicize their training-quality standards, solutions to ensure quality, and financial activities, he added.

Schools must organize training programs and scientific research projects that meet society's actual demands, Mr. Nhan advised.  

At the same time, "to make training quality teachers' top priority, all schools must renovate the educational environment and improve teachers' living conditions," he added.