Students from across the country stand to receive loans totaling VND1.2 million per month, up from current levels of VND860,000.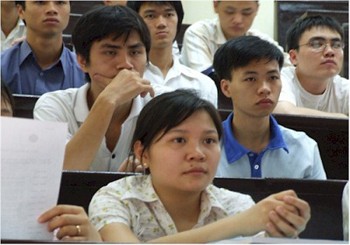 If the Ministry of Education's proposal is approved, each student loan would increase to VND1.2 million per month
The Ministry of Education made the proposal at a recent seminar on building assistant policy to disadvantaged students in accordance with a Government resolution on reducing poverty in 61 of the country's impoverished districts.
Demand for student loans continues to rise.
Moreover, the current loan level of VND860,000 per month fails to cover the cost for many students to pay for accommodation and travel expenses, forcing many to take on part-time jobs in order to make up the difference.  In many cases, this extra burden has affected their studies.
According to the Vietnam Bank for Social Policies, three years since implementation of the loan assistance policy to students, total loans to students have reached VND19.9 trillion (US$1 billion), as of March 2010.
Of these, the number of students who received loans is 1.8 million and the number of households getting loans for their children's education is 1.6 million.
The assistance policy has helped hosts of disadvantaged students to continue their studies and has limited the number of students forced to drop out of school due to financial constraints.