Amendments to the country's Education Law including university establishment, textbooks and universalization of education were some of the issues discussed October 24 by National Assembly (NA) deputies at their ongoing session in Hanoi.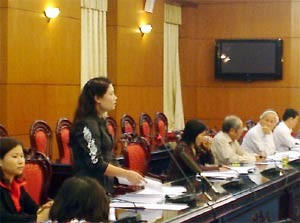 Pham Thi Nga (standing) of Hanoi speaks about amendments to the Education Law at the National Assembly sitting on October 24 (Photo: VTC)
Most delegates said they were unsatisfied with the revised draft law on education. "It is unspecific and has yet to meet the essential needs of society in the field of education," said Ngo Minh Hong of HCM City.

"Many articles contain non-specific content, so it would be very hard to put them into practice. Moreover, some articles have simply been copied from NA resolutions and the Constitution," Bui Tri Dung of An Giang Province commented.

"It is not so urgent that the revised law must be passed right away. The amendments should be prepared more carefully and the most important issues must be addressed specifically in the revised law," said Tran Du Lich of HCM City.

Discussing curricula at the country's schools, Nguyen Dang Trung of HCM City, said students are overloaded with intense study programs but the amendments fail to deal with the problem.

The curricula must be reformed in such a way that students can be more dynamic in approaching their studies and can bring their independent thinking into play, he said.

Many NA deputies asked that teachers and students be allowed to select their own textbooks, which should be customized for both teaching and studying.

Nguyen Hoi of Thua Thien-Hue Province argued that many of the country's textbooks are not even written by experts, but simply by those with a long history of teaching. 

Regarding the establishment of universities, most delegates said it should be left to the decision of the minister of education and training.

Meanwhile, Dang Ngoc Tung, chairman of the Vietnam General Confederation of Labor, said it was important to choose the right person for the job, whether it be the Prime Minister or the education minister.

Universities are now booming in Vietnam, though many are of poor quality. Meanwhile, since so many ministries have a hand in licensing universities, there is often no single agency charged with handling operational problems, he said.

"Therefore, I agree to an amendment that the ministry of education and training be given the authority to decide on the establishment of universities. Should the minister issue a poor decision, he must be subject to dismissal," he said.

Meanwhile, other deputies including lawyer Trung, said they supported a proposal by the NA's Committee for Culture, Education, Youth and Children that the Prime Minister should assume authority.

The lawyer also said the law should set forth criteria for establishment of a university, such as regulations on facilities, teachers, and training programs.

Discussing the universalization of education, many deputies said it would be difficult to achieve.

They argued that providing free education for all students was not currently feasible as the Government could not afford it. Moreover, there is a lack of both schools and teachers, the delegates added.

The country's tertiary education system has expanded too fast and is struggling with issues of quality, said General Secretary Nong Duc Manh. "Therefore, I am very concerned about the management of school textbooks and training programs."

Moreover, many lecturers are teaching at up to four or five schools at once, so they have no time left for improving their own knowledge, he added.

The quality of Vietnam's higher education is extremely problematic and the Ministry of Education and Training must re-examine its approach to universities, General Secretary Manh said.

Any amendment to the Education Law must be aimed at enhancing the intellectual standards of the people, improving the quality of human resources and developing talents, he added.