Millions of university students coming to big cities to study say their biggest expense is on accommodation, which is so much beyond their capacity that most of them who come from poor families resign themselves to renting dilapidated and slum-like rooms.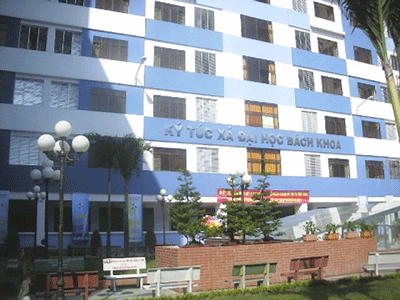 Accommodation such as this Polytechnic University dormitory in Hanoi is a dream for students from the rural areas. (Photo: SGGP)
With rentals having gone up even more in recent days by 30 percent, these unsafe and unhygienic rooms that landlords do not even repair or upgrade seem to be the only choice for these poor and desperate students.
Although the government has plans to build dormitories for students, this still is a far off dream as construction of dormitory buildings is far behind schedule.
The fact still remains that students coming to Ho Chi Minh City and Hanoi to study from far off provinces from across the country have to live in run-down rented houses while rents continue to hike steadily each year.
According to a survey by a Saigon Giai Phong reporter, at present the lowest going rate in Hanoi for a 10 square meter dilapidated room located more than 10 kilometers from any university campus is VND800,000 (US$38) a month. In more central districts of the city, where many universities are located, rent is a minimum VND2 million ($96) a month.
Besides pay the unaffordable rents, students have to use well water for which they pay VND50,000-VND80,000 per head per month and an additional amount of VND3,500 per kWh for electricity.
Nguyen Van Tuan, a fourth year student of the Polytechnic University in Hanoi, said his parents send him VND2.5 million ($120) a month, and he spends VND1 million ($48) on rent, electricity and water; VND700,000 ($33.6) on meals and the rest on miscellaneous articles like books, tuition fees, parking.
As these poor rural students spend so much on lodging, they cut down on meals and deprive themselves of proper nutrition. Their meals mostly comprise of cheap rice for lunch and instant noodles for dinner.
Pham Ngoc Phuong from the Ministry of Education and Training confirmed that dormitory accommodation only covered the needs of 20 percent students, leaving a large number no choice but to live in run-down rooms, badly affecting their health and quality of learning.
Although the government has implemented construction projects to build more dormitories to meet 60 percent demand by 2015, slow disbursement and shortage of capital is holding up the works. Until such time that these dormitories are built, parents and students continue to fret as they pay high rents for unhealthy and unhygienic accommodation.
Specifically, the My Dinh 2 dormitory with capacity to accommodate 7,400 students, and the Phap Van-Tu Hiep dormitory with capacity for more than 21,900 students, are among key projects that should have been completed by late 2011. Construction on both the dormitories is on hold and no-one knows when they will be completed.
Dormitory accommodation is also preferentially for students coming from families under social welfare policies and ethnic minority groups.
The Ministry of Education and Training has sent a dispatch to local leaders asking them to make efforts to control rents, so as to help poor and needy students. The government has submitted a proposal on reduced tariffs to landlords, so as to influence them to reduce high rentals mainly for students.