The Mekong 1000 project to sponsor students in the Mekong Delta to pursue their graduate studies abroad has become stagnant due to candidates' poor English language skills and disagreement between localities and the State Audit of Vietnam.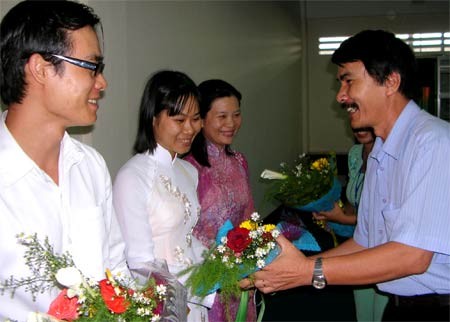 This undated file photo shows Can Tho University's principal Nguyen Anh Tuan (R) give flowers to candidates sent abroad to study under the Mekong 1,000 project (Photo: SGGP)
The project aims to promote the Mekong Delta's industrialization and modernization process, and international integration through improving human resources for the region.
Under the program, as many as 1,115 students will be sent to foreign countries from 2006 to 2015, with a total budget of US$50 million funded by 13 regional provinces. 907 students of them will pursue master's degrees and 208 will progress towards obtaining their doctorate degrees.
Currently, 200 of 508 candidates are studying abroad, majoring in international business administration, banking, international relations, biological technology, food technology, information technology, aquaculture, and construction management.
According to Can Tho University, the project has become stagnant because some universities have raised the English skill level required for their applicants to 6.0 or 6.5 from 5.5 points scored on the IEL TS test, or due to increased school fees.
A representative from the university said candidates' poor English skills have obstructed them from applying to foreign schools.
Nguyen Khai Hoan, deputy director of Can Tho City's Department of Home Affairs, said the project has faced difficulties and become stagnant due to the State Auditor's inspection.

Mekong Delta provinces have proposed to use the local budget for the training, but the State Auditor has not agreed.
Tran Thi Tuyet, director of Soc Trang Province's Department of Home Affairs, said, "The province has spent VND20 billion (US$1.05 million) implementing the project, but the State Auditor didn't approve the spending, saying that it was improper to spend the local budget to send students abroad, and that schools where students have pursued their studies are not in the list of 100 leading schools in the world."