The country's first-ever education complex covering on an area of 10ha from kindergarten to doctoral levels inlcudes Saigon Academy (SGA), iSchool, United Kingdom Academy (UKA) and School of North America (SNA).

The facilities available at the complex are an indoor stadium offering a variety of sports, volleyball, basketball, tennis, badminton; a library, a multi stadium with an area of over 6,000 sq.meters with fitness room, aerobic room, roboncon club and among.

The work is considered as a green education ecosystem with football grounds, swimming pools, running paths, parks, flower and vegetable gardens, especially a zoological park and a pet garden.
The IEC will also provide school buses serving more than 6,000 students.
According to the design by B+H Sudio, a leading global design and consulting firm of Canada, the 12,000 sq.meter Saigon Academy (SGA) kindergarten features 64 classrooms serving 1,300 students.
The 5-storey iSchool covering on an area of 14,000 m2 is designed for around 3,000 students from primary to high school with 101 classrooms.
The 4-storey bilingual school, United Kingdom Academy (UKA) located on an area of 10,000m2 sponsored by UK's international organizations for education, Cambridge and British Council, has a capacity of 50 classroom serving 1,200 students ranging from first grade to twelfth grade. After graduating, students will have opportunities to receive direct admission in British universities without entrance exam.

The SNA school with an area of 8,000m2 and 41 classrooms provides the American education program in the US to more than 800 students who will be eligible to enter universities in the US and in countries worldwide after graduating.
The education complex is invested by Nguyen Hoang Group encompassing core businesses of hospitality, tourism, real estate, education and training.
The International Education City is expected to be completed in May, 2019.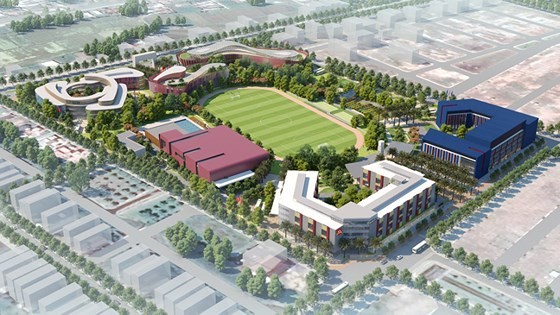 Design of IEC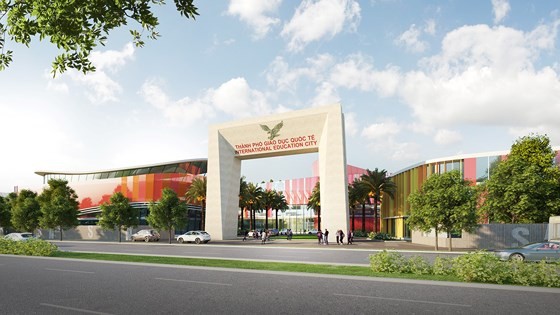 Entrance gate of the complex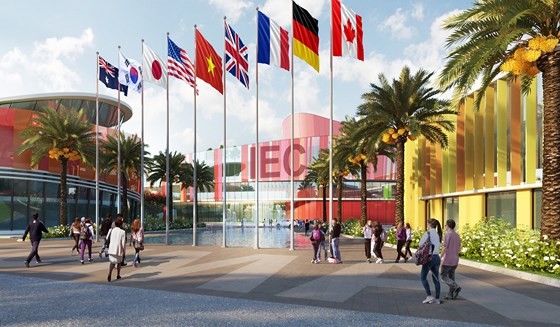 The first-ever education complex in Vietnam
Urban farm in the complex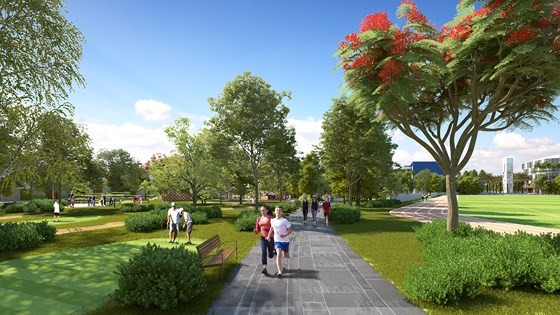 A corner of a park in the complex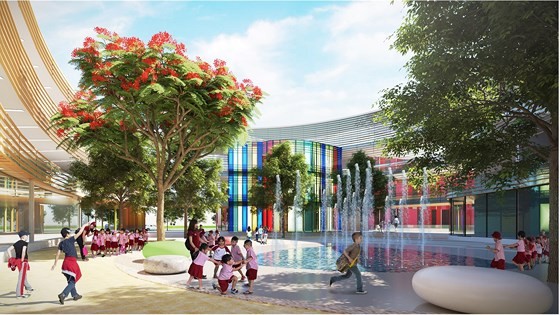 A playing ground in SGA kindergarten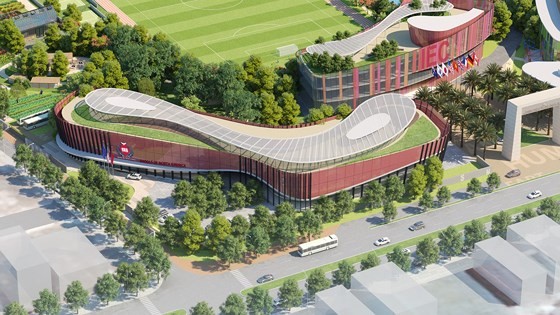 Design of SGA kindergarten