A competition called 'Beautiful Sappy Bamboo' for the academic year 2012-2013 has been organized by the Central Team Association, the Ministry of Education and Training and the Dutch Lady brand, aimed at improving the social skills of primary school children across the country.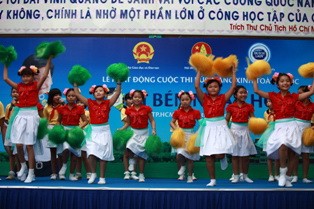 Ky Dong Primary School students perform at the opening ceremony of the contest (Photo: A. Thu)
Under the theme 'Who is more Sensitive', the competition will create conditions for children to challenge through brain training games and help build high mindsets that will sharpen students' skills, make them more independent, and imbibe confidence in their school years ahead.
Entrants will answer a series of questions edited by the Institute of Educational Research which requires students to utilize their knowledge in specific situations.
As per a survey conducted by the Institute of Educational Research in Hanoi and Ho Chi Minh City, more than 80 percent of primary school children lack social skills and are not sensitive in analytical thinking and problem solving.
Research shows that majority of students acquire knowledge by studying by heart, but when dealing with a real situation they seem to feel awkward and inflexible. One of the reasons is that educational programs and activities for children have not provided enough practical environment for them to thrive and do not encourage them to analyze and handle situations practically.
The contest will take place from September 10 to December 16 for elementary school students throughout the country in three rounds, namely- School level, Regional level and National level.
For the national level contest, the first prize will be VND50 million (US$2,402); second prize will be VND30 million ($1,441); third prize VND20 million ($961) and two encouragement prizes of VND10 million ($480.5)
Also, 68 awards will be presented to students and the school for excellent performance, with a total estimated value of about VND217 million, including cash awards.

The opening ceremony was held in Ky Dong Elementary School in District 3 in Ho Chi Minh City, with the participation of 500 students.