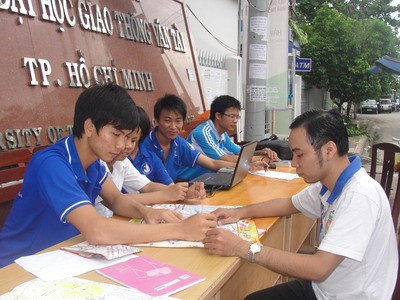 Many volunteer students willingly help newcomers in front of the University of Transport (Photo: Thanh Tam)

High school students flocked to Ho Chi Minh City seeking college admissions on the first day of July while volunteering students from different universities, colleges and the city went to each examination center to welcome and offer necessary help, especially in finding them free or cheap accommodation.
Thousands of students and parents coming to the Student Assistance Center in District 1 have received much welcoming support in finding suitable accommodation since 7 o'clock in the morning.
By afternoon, volunteers had helped nearly 100,000 people with free lodging and free bus tickets.
Volunteers have been hunting for cheap or free lodging in every alley and block in areas with a high density of colleges to prepare for the upcoming entrance examination season.
Hundreds of admission seekers to HCMC University of Industry continuously contacted the HCMC Student Assistance Center for help with the address of An Nhon Junior High at 78/820A Le Duc Tho Street in Ward 6 of Go Vap District, the examination site of 520 pupils for the first term, July 3rd-5th. After checking with Ward 6 People's Committee, the Center confirmed the correct address as 75/820A Le Duc Tho Street in Ward 17 of Go Vap District.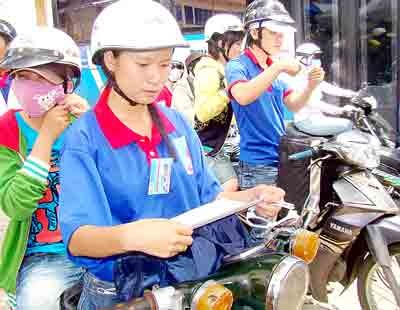 Voluntary students take examinees to lodging rooms (Photo: SGGP)
This university has made the same mistake once with the address of Tan Son Nhi Elementary School in Tan Phu District, the examination site of 2,480 admission seekers.


The Nam Dinh association of fellow-countrymen provides hundreds of free rooms for board and lodging. According to Le Nguyen Long, Chairman of Nam Dinh association of fellow-countrymen in HCMC, the association mobilizes more than 200 voluntary students to assist poorer admission seekers coming to the city, offering about 200 free rooms and meals during each term, as well as organizing transport to pick up and see off the students and their families.

The Nam Dinh, Thanh Hoa, Quang Binh associations of fellow-countrymen as well as pagodas and churches in the city try their best to assist poor examinees. Ay Dung and Tan Sa Chau Parishes in district Tan Binh and the Vinh Nghiem Pagoda in District 3 also provides poor pupils with thousands of free rooms for board and lodging.