The An Hoi Primary School in Ho Chi Minh City's Go Vap District is overflowing with 103 classes and more than 5,300 students, three times higher than Government regulations stipulate.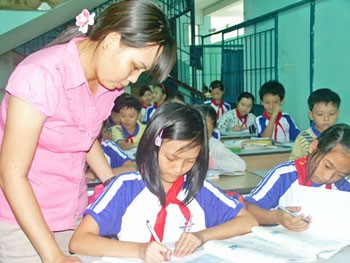 Students at An Hoi Primary School in Go Vap District, HCMC are forced to study in makeshift classrooms due to booming numbers of students (Photo: SGGP)
Teachers say they are being pushed to the limit while students suffer in a poor learning environment.
Every day, thousands of parents on motorbikes arrive to drop off and pick up their children, causing severe gridlock around the school and surrounding streets. It takes nearly an hour for most students to get to class.
Principal Huynh Thi Thuy Ngan said that in addition to students in the district's Ward 8, her school takes in other children from Ward 12 which does not have a primary school, and also from Wards 9 and 14, making An Hoi the most populated primary school in the country.
A school employee said that each morning he has to wake up before 5am and open the school gate to accommodate all the students arriving to class.
According to regulations set by the Ministry of Education and Training, classes are permitted to have 30-35 students each. Classes in An Hoi Primary School, however, have on average 50-59 students each.
Teachers are forced to use a microphone during lectures while students have to put up with excessive noise from surrounding classrooms.
An Hoi has had to borrow a hall from nearby secondary school Pham Van Chieu and using makeshift dividers, separate the dark, narrow area into more rooms for children to study.

The school's 20-square-meter medical room looks like a small pediatrics hospital overflowing with children. However, there is just one employee and an assistant to deal with the entire group.
The school also lacks a resource room for teachers and there is no lounge for staff to take a break.
Nguyen Ngoc Lan, head of the school's grade 1 block said that between classes, she has no place to sit or relax and is forced to wander around until her next teaching session.
Each class has a head teacher who is responsible for instructing all subjects including gymnastics, music and painting.
Lan has taught at An Hoi school for 25 years now and says she has seen the number of grade 1 classes skyrocket from four to the current 29. The conditions have left most teachers unable to manage their students effectively.
Teachers say they are exhausted at the end of the day but still have to mark up to 200 notebooks at night.
Due to a shortage of instructors, Nguyen Thi Thanh Thao, a pregnant teacher, says she has to work right up until her due date.
Another teacher said that a national-standard school near An Hoi recently opened its doors with 30 classrooms. It charges higher tuition fees than An Hoi and thus, its enrollment numbers are far fewer.
It is unfair that wealthier students can pay more to receive a better education, said the teacher, while poorer students have no choice but to endure the overloaded conditions at An Hoi.
Principal Ngan said the school lacks the funds to improve because 40 percent of students cannot afford the tuition fees. Moreover, it is extremely hard for the school to manage and educate over 5,000 students, especially those that need extra help, she said.
Le Ngoc Diep, head of the Primary Education Division of the HCMC Department of Education and Training, said local authorities need to take action quickly and provide more rooms for students while increasing the number of teachers at the school.