To mark Teacher's Day, a delegation of leaders from Ho Chi Minh City on November 18 visited some outstanding teachers and professors who have made great contributions to the education sector in Vietnam.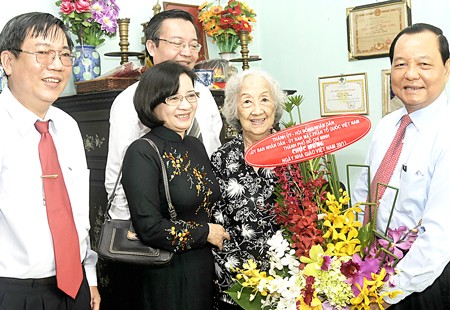 City leaders visit teachers on the Teacher's Day(Photo:SGGP)
Nguyen Van Dua, Deputy Secretary of the Party Committee in HCMC led a delegation of City leaders to congratulate Prof. Dr. Tran Thanh Dam, former principal of University of Pedagogy in HCMC, on his 80th birthday.
On behalf of the Party, leaders and people of HCMC, Mr. Nguyen Van Dua expressed his appreciation of the efforts, dedication and contributions of Prof. Dr. Tran Thanh Dam.
On the same day, the City delegation also visited Prof. Dr. Chu Pham Ngoc Son, Vice Chairman of Union of Science and Technology Association and musician Ca Le Thuan, Chairman of Union of Literature and Arts Associations.
On this occasion, Ms. Than Thi Thu, Head of the Department of Propaganda and Education of the Party Committee, along with representatives of Department of Education and Training visited Ho Thieu Hung and Truong Song Duc, former Directors of the Department of Education and Training.
Than Thi Thu thanked the two teachers for their contributions and hoped they would continue to develop the education sector in HCMC.
Mr. Hua Ngoc Thuan, Vice Chairman of People's Committee of HCMC led a City delegation to visit and congratulate Dr. Huynh Cong Minh and Prof. Dr. Cao Minh Thi, former Directors of Department of Education and Training in HCMC.