From October 30 to November 2, more than 500 primary school students in Ho Chi Minh City will participate in an interactive chemistry education program.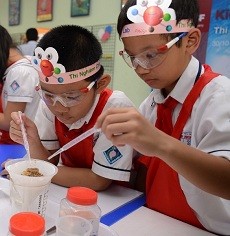 Primary school students enjoy making joyful experiments in previous time
Primary school students from Districts 5, 7, 10, Binh Thanh, Phu Nhuan, Tan Binh and Cu Chi will take part in the program themed 'Joyful Experiments for Young Students'.
This is the third year that the program has been running. Students will carry out water experiments and learn how chemistry can help in water conservation.
The four-day program is being held at the General Science Library by BASF Vietnam Company in partnership with Primary Education Division under the Department of Education and Training in HCMC.
In related news, from November 14-29, the Ministry of Education and Training will provide a refresher course on fresh water and environmental sanitation to managers at preschools in 60 cities and provinces across the country.
The content of the course will focus on the current situation of environmental cleanliness, water supply, water resources and water use in preschools.
In addition, the course will also raise awareness among managers for clean water and supervision of use of fresh water in preschools.