On 23-11, Ho Chi Minh City Department of Education and IIG Vietnam - official representative of Educational Testing Service United States (ETS) in VN Awards held TOEFL Junior Challenge 2013 contest for junior high school students.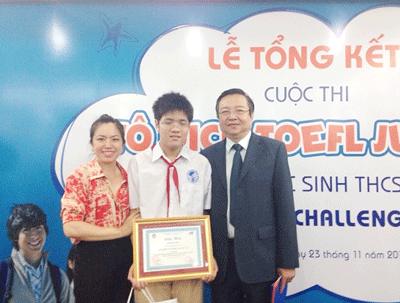 Lam Dang Khoa, secondary school students Asian, reach 900/900 points test within 2 in the TOEFL JUNIOR and won the consolation prize of the contest.
This is the first English-language contest in Vietnam at the same time the use of international tests of ETS - TOEFL Junior and TPO test (TOEFL Practice Online) to assess the level of learning in their teens. Once launched , this playground has attracted more than 21,000 students from 600 secondary schools throughout the country participated , including Ho Chi Minh City area accounts for nearly 80%. At the national finals, the organizers have selected the best 101 candidates, including 64 regional contestants HCMC has won the category award from the national championship titles in the consolation prizes. Phuong Nguyen Dinh Song Students (junior high School District Tan Phu Phan Boi Chau (HCMC) honored to receive the title of national champions in 2013.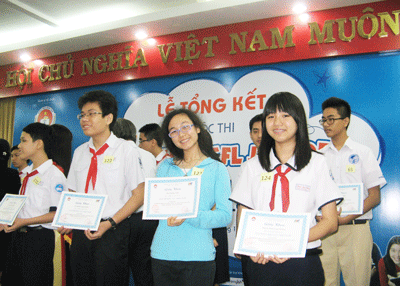 The highest student award winner, second and third prize in the competition
Speaking at the ceremony, Mr. Doan Hong Nam, President of IIG Vietnam said: This playground "inspire " students to add passion to learn English, so that makes learning movement and training better English. The contestants participated in the competition, although the results also became one of the first generation of Vietnam have access to the same international standards as their peers worldwide. "Through each round and honored at the national finals, they will be more valuable experiences and baggage firm language to be able to integrate into the international education environment expands as today", Mr Nam emphasized.