The Australian Prime Minister John Howard presented Monday awards to the top lecturer and student of 2006 from RMIT International University Viet Nam at the degree conferring ceremony at the Ho Chi Minh City Opera House.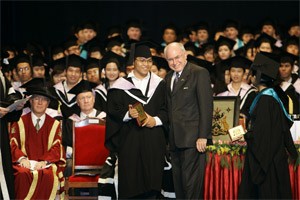 PM John Howard (2, R, stand) presents award to student Tri ( Photo:U.Phuong)
Mr. Howard presented the University Teaching Award for 2006 to Ms. Amy Hickman, a U.S. national, and the President's Award to student Nguyen Huu Tri. 
Ms. Hickman, a teacher at RMIT Viet Nam, contributes remarkably to the success of her students. 
Mr. Tri, a Bachelor of Commerce graduate, was awarded for not only an excellent student but someone who had shown great social responsibility and significant contribution to the university community. 
At the ceremony the Chancellor of RMIT University, Professor Dennis Gibson, conferred 242 undergraduate and postgraduate degrees.
In his message to the graduates, the Australian Prime Minister stated  "As the only fully foreign owned university in Viet Nam, RMIT International University Viet Nam is also making a valuable contribution to strengthening the important links between the two countries."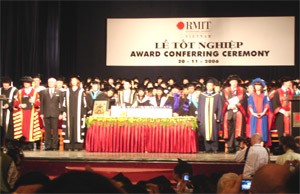 RMIT's award confering ceremony is held with the participation of the Australian Prime Minister (2L, stand) (Photo: U.Phuong)
Addressing the graduation, Professor Margaret Gardner, the Vice Chancellor of RMIT University praised four successful graduates on that day.

The first is Cao Thi Viet Nga, who is receiving a Bachelor of Commerce degree. Nga and her friends have established a clothing company.

In applying her business skills to the fashion industry, Nga has joined an RMIT tradition of success in the world of clothing and textiles.
Two young women Dang Thi Hong Ngoc and Hguyen Thi Hai Quynh, who last year won Viet Nam Television's nation-wide Start-up Business Competition, also received praise from the Vice Chancellor.
Their innovative project, which is E-map Online Advertising, provides electronic route guides and travel itineraries for domestic and international tourists.
After a year of development, the Eboome Advertsing Company with its unique product, the e-map, will be launched next month.
Vo Nguyen Xuan Tung, one of three students who set up the Cao Thien Minh Stationery Company, a successful small business established on the Saigon South campus of the university, was also hailed in the Vice Chancellor's speech.