Some 53 architectural designs, created by university students nationwide, received the Loa Thanh prize at Van Mieu-Quoc Tu Giam in Ha Noi yesterday.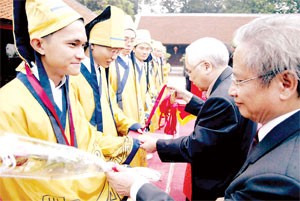 At the award ceremonay
They were the designs which had previously submitted for the contestants' university graduation.
There were five first place prizes, 22 second place prizes and 26 third place prizes awarded in total.
 
The five first place designs were awarded for three technical infrastructure designs of transportation systems, a water reservoir design, and a museum design.
 
The competition was organized by the Viet Nam General Association of Construction, Architects Association, Ministry of Construction and Ministry of Education and Training , and HCM Communist Youth Union Central Committee.