With several new universities coming under the scanner for their poor quality, a bill to amend the Law on Education to transfer the authority to sanction universities from the prime minister to the education minister is causing dismay.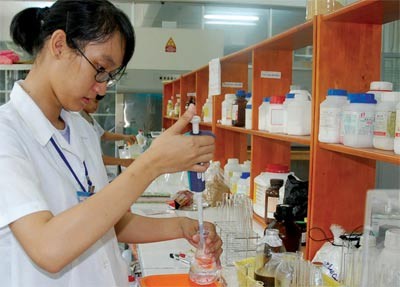 A laboratory at the Ho Chi Minh City Agriculture and Forestry University. A plan to vest the education minister with the power to sanction new universities is causing concern (Photo: SGGP)
The 2005 law vested the authority in the prime minister who will now retain the power to decide only in some special cases.

The ministry said the bill clearly defines the minister's authority in managing education, adding the PM will retain overall authority.

But some members of the NA Standing Committee expressed worry.

Prof. Vu Minh Giang said the authority should remain with the PM, explaining "Opening a university also relates to other ministries and sectors."

Call for fresh look at requirements

Prof Tran Hong Quan said the three necessary conditions to open a university are space, finance, and management.

Opening one can be in two phases, he said. In the first, the school should be allowed to open before meeting all the conditions necessary to operate in the second, he added.

But Prof Giang likened this to a chicken-and-egg situation, saying: "If there is no legal guarantee [for a license], it will be hard to attract investment from individuals or official agencies.

He suggested an alternative method: "The establishment of a university should be done in two steps: In the first, the school will report its plans to open school; in the second, after it satisfies all necessary conditions and is assessed, it will be licensed to operate."

But educationalists said schools would not be able to do so if they are required to have facilities and instruction staff in place right at the beginning.

According to the ministry, there are 376 universities and junior colleges in the country against just 107 in 1987. The number of students has increased to 1.7 million from 133,136.

But there are a mere 330 professors in the entire country.

The establishment of universities and junior colleges began to boom in 2006-07 when 40 were set up.

Professor Nguyen Minh Thuyet, deputy head of the NA Committee for Culture, Education, Youth and Children, expressed concern that so many schools have been opened in a short time, most of them by provinces.

"It is dangerous that so many schools have been established in localities. Planning and establishment of schools need to be rechecked," he said.

At a meeting organized on October 17 by the Vietnam Union of Science and Technology Associations to collect opinions for the bill, many participants said licensing of universities should be done seriously.

Prof Nguyen Xuan Han said policy makers should consider if it is necessary to open more universities.

Prof Giang said opening new universities is essential to meet the increasing demand but their number has to be reasonable.