The 198th scholarship program entitled "Overcoming Difficulties to Be a Good Learner" handed out 75 scholarships to students of impoverished ethnic minorities of the Dak Lak Province's Highland University. The program is organized by the Tuoi Tre (Youth) Newspaper, who receives donations to help youth facing obstacles in their educational path.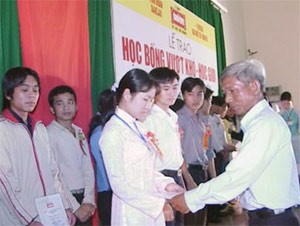 Deputy chief of the Department of Public Relations of Daklak Province Y Don Mlo awards scholarships to students.
The total expenditure of the 198th scholarship program is VND 112.5 million, or VND 1.5 million per student. The sponsors for the 198th edition of the program are Mr. and Mrs. Duong Quang Thien.

"I am so moved and honored to receive the scholarship. My village in the Kon Tum Province is at the foot of the Chu Mom Ray Mountain where many children who are Agent Orange victims live. I will study hard to be a doctor so that I may help them." This statement came from A Brao of the Jo Rai ethnic group, a recipient of one of the scholarships.
"We are highly appreciative of this program of the Tuoi Tre Newspaper. It has contributed to the development in the Highland. Students of ethnic minorities should study assiduously to gain the knowledge to help their homelands develop." Said Y Dơn Mlô, the deputy chief of the department of public relations of the Dak Lak Province, at the scholarship award ceremony at Highland University on November 29.