Long lasting drought has dried up irrigation sources and withered many coffee fields the Central Highlands, sending local farmers to pump or dredge water from depleted reservoirs to ease the thirst for their crops.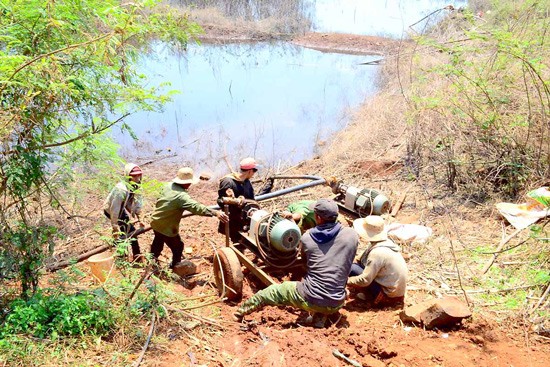 Farmers pump water for their coffee plants in Cu M'gar district, Dak Lak Province (Photo: SGGP)
Springs, rivers, ponds and reservoirs have been depleted in large coffee growing districts of Dak Lak province such as Cu M'gar, Ea H'leo and Krong Pak.

At least ten machines were found on the bed of the three-hectare reservoir Ea Drong trying to pump water from concave spots into Cu M'gar district on a recent day.

Mr. Ngo Xuan Bien, deputy head of the district Department of Agriculture and Rural Development, said that drought has begun after Tet holidays. Only four out of 51 reservoirs in the district can supply irrigation water. Three have bottomed out while the others' water level has quickly fallen.

All 10 springs in the district have been dry. If drought lingers in half a month, about 3,000-4,000 out of 35,000 hectares coffee areas will be thirsty.

Drought has also hit Cu Jut and Dak Mi districts in Gia Lai province. Son Trung reservoir providing water for hundreds of coffee hectares has went depleted.
About 500 hectares of coffee and other crops have undergone water scarcity in Krong Pa, Ia Pa and Chu Pah district, Gia Lai province, where many areas have not seen rain since last September. Rainfall has dropped by 15-20 percent.

Deputy Head of Giai Lai Department of Irrigation and Seafood Le Thanh Xuan said that the water level has dropped down on most of 330 irrigation works in the province.

Similar condition also occurs in Lam Dong province, where coffee plants have faced severe drought in Di Linh, Lam Ha, Bao Lam and Duc Trong districts.

About 875 hectares in Kon Tum province might fall in water famine. Most concentrates in Kon Tum city, Sa Thay and Dak Ha districts.

Local authorities in the Central Highlands have mobilized all possible resources to deal with drought.

Kon Tum has proposed the Government to finance VND20 billion (US$935,200) for canal and reservoir upgrading and dredging projects so as to minimize drought-caused damages.

Dr. Le Van Bau, head of the Central Highlands Institute of Agro-forestry Science and Technology, said that in long term, local authorities should encourage farmers to grow drought-resistant coffee varieties in areas where regularly lack water.

The Government should build large irrigation works to further limit the devastation of flash floods and accumulate water for farming, he said.