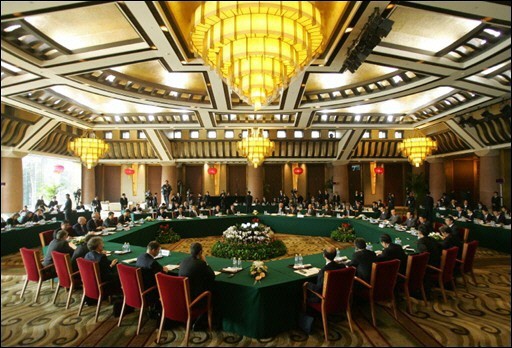 Top envoys from the six nations -- China, the two Koreas, the United States, Japan and Russia at the talks in Beijing.
Nuclear disarmament talks resumed in Beijing today, two months after Democratic People's Republic of Korea (DPRK) conducted its first atomic weapons test.
Top envoys from the six nations -- host China, the two Koreas, the United States, Japan and Russia -- gathered here for the first time in 13 months but Pyongyang gave no indication it was prepared to abandon its ambitions.
In his opening speech to the forum, DPRK envoy Kim Kye-Gwan repeated a list of his nation's long-standing demands and said Pyongyang was "satisfied" with having nuclear weapons.
"The gist was that we would be able to dismantle nuclear weapons only after the United States dropped a hostile policy."
DPRK pulled out of the talks in November last year in protest at US financial sanctions imposed against it, then stunned the world with its first ever nuclear test on October 9.
Kim said after arriving in Beijing on Saturday that Pyongyang's decision to go nuclear was because of the "hostile" US policy against it.
"The nuclear issues cannot be resolved until the United States takes a co-existence policy," Kim said. "I'm not optimistic about prospects for the six-party talks."
In his opening remarks, Chinese envoy Wu Dawei said the top priority this week was to discuss a deal struck in September last year in which DPRK agreed to give up its nuclear program in exchange for security guarantees, energy benefits and other aid.
"The issues that we will discuss at the talks are of a profound and complicated nature," Wu said.
The chief US envoy to the talks, Christopher Hill, also said ahead of the start of negotiations that the United States would push for a DPRK to recommit to the September agreement.
"What the DPRK needs to do is to get serious with denuclearization," Hill said.
"If they get serious with denuclearization, a lot of good things can happen ... if they do not get serious about denuclearization, such things will go away."
According to South Korean media reports, the United States has offered the North another security guarantee signed by President George W. Bush as part of a package of incentives to tempt it into dropping its program.
While Hill has been cautious about the chances of success, US Secretary of State Condoleezza Rice said last week that the United States was aiming for a denuclearized DPRK by January 2009, when Bush leaves office.
For DPRK, one of its main goals at this week's talks is to secure the lifting of the US financial sanctions, imposed last year for alleged counterfeiting and money laundering.