International donors on Friday pledged US$4.445 billion in official development assistance for Viet Nam in 2007, up from US$3.7 billion this year.

The announcement came at the end of the two-day Consultative Group (CG) Meeting in Ha Noi. The new sum is the greatest ever pledged by donors through a CG meeting.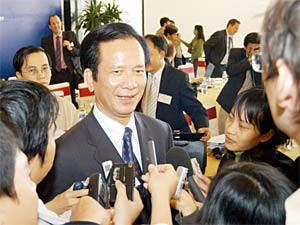 Planning and Investment Minister Vo Hong Phuc answer reporters' questions about raising ODA effectiveness during the CG meeting (Photo: SGGP)
Among the pledges, the Asian Development Bank's is the largest at US$1.14 billion, followed by the European Union with US$948.2 million, Japan's US$890.3 million and the World Bank's US$890 million.
Planning and Investment Minister Vo Hong Phuc said the ODA would be used to improve the country's underdeveloped infrastructure and reduce poverty.
He said Viet Nam aimed to reform policy making, State management, banking, and State-run enterprises, and to boost social development.
"Viet Nam is committed to using ODA effectively for the right purposes," Mr. Phuc said.
Also present at the CG meeting was Deputy Prime Minister Pham Gia Khiem, who reiterated the Vietnamese Government's determination to speed up administrative reform, simplify procedures and fight corruption to ensure the most effective use of ODA.
He said the tasks ahead were to accelerate legal reforms, simplify administrative agencies, raise competitiveness, continue reforming the economy, develop education, support development in rural and remote areas, and protect the environment, all the while maintaining political stability.
Related article
VN Reiterates Determination to Fight Corruption, Raise ODA Effectiveness