A major campaign to raise donations for soldiers stationed on islands through cellphone text messages was inaugurated at Chu Van An Senior High School in Hanoi May 19.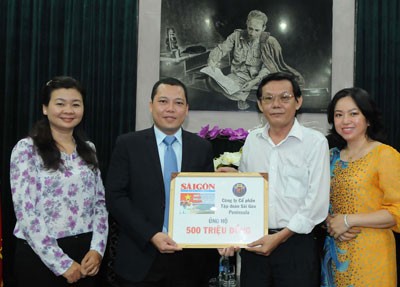 Nguyen MInh Tuan, Sai Gon Peninsula Corporation's director gives VND500 million to SGGP's Editor-in-Chief Nguyen Tan Phong (Photo: SGGP)
People can donate VND18,000 ($0.84) by texting the letters BD to 1409.

The Vietnam Red Cross, the Ministry of Information and Communications, Vietnam Television Corporation, and some other agencies are organizing the campaign, which will go on until July 18.

Deputy Minister of Information and Communications Le Nam Thang called on organizations and individuals within and outside the country to support the campaign.

The money raised will be used to buy desalination equipment, communications equipment, and saplings for soldiers and others in Truong Sa and Hoang Sa Archipelagos and specialized equipment for the Coast Guard and fisheries surveillance force.

At the opening ceremony Vietnam Red Cross and the Vietnam Television Corporation gave over VND1.3 billion (US$ 61,5) to soldiers and residents in Truong Sa Island which is from the texting campaign.
People can donate in cash or kind to Vietnam Red Cross, 82 Nguyen Du Street, Hanoi, or through its account number 12010000036656 at the Bank for Investment and Development of Vietnam.
On May 19 thousands of students at Amsterdam Senior High School in Hanoi stood in an S –shape to represent the Vietnamese map and show their support for the country's sovereignty over its seas and islands.
Teachers and students also gave donations to support soldiers who are protecting the country's sovereignty.
Many schools in Hanoi organized activities focusing on the islands.

Cao Xuan Hung, deputy director of the Department of Education and Training in the northern province of Nam Dinh, said at a flag hoisting ceremony on May 19 that the current situation in the East Sea was explained to teachers and students at schools in his province to help them understand fully.

The Ministry of Education and Training had instructed its agencies to raise awareness about the country's sovereignty over its islands among teaching staff and students.

Through talks of the agencies, students would understand more about international sovereignty laws and not to listen to incitement by saboteurs and other bad elements to breach the law.

Officials from the Department of Health in the central province of Ha Tinh called on and handed over VND10 million (US$ 473.6) to the family of lieutenant of the Coast Guard, Pham Kha Dang, in Thach Tri commune in Thach Ha District.

Dang's mother suffers from cancer and was taken to hospital in Hanoi for treatment. Dang asked for leave to visit his mother but cut it short to return to duty.

To show him the nation cares, the Ministry of Health ordered health authorities in Ha Tinh to treat his mother free of cost.

On May 19 the Pedagogy University in the central city of Da Nang organized a ceremony to President Ho Chi Minh's birthday and donated a day's salary to the Coast Guard and fisheries surveillance forces.

A film titled "To protect the country's islands" made by staff and students was screened to protest China's illegal acts in Vietnam's waters.

Representatives from the Sai Gon Peninsula Group Corporation on May 19 visited the office of Sai Gon Giai Phong newspaper to donate VND500 million for a program to support soldiers organized by the newspaper and the Navy High Command.

Nguyen Minh Tuan, general director of the company, said the company trusted the Party's leadership to protect the country's sovereignty and so contributed the money to support soldiers who are on duty to protect the islands.

On behalf of the newspaper, Editor-in-chief Nguyen Tan Phong expressed his thanks to the corporation, adding that the newspaper would convey the money and the love of the company's staff to soldiers.

A representative from Ngo Thoi Nhiem High School also came to the newspaper's office May 19 to hand over VND40 million (US$1,894) and 200 poetry books for the program.

The representative said the school had organized a talk on the country's sovereignty over its islands for its teaching staff and students.

On May 19 Satra Trading Group gave VND200 million (US$ 9,474) to fisheries surveillance forces and VND150 million to the Coast Guard, and VND50 million for repairing two ships attacked by Chinese vessels. It also donated 20 containers of tinned food for soldiers at sea.

In the last three years Satra has donated nearly VND7 billion to programs to support soldiers at sea, VND900 million to a fund for fishermen in the central provinces of Binh Dinh and Quang Ngai, and 44 radios to fishermen in the two provinces.

Vietnam Water Solution collected VND100 million (US$4,735) for a program launched by the Fatherland Front in HCMC to support fishermen, Coast Guard, and fisheries surveillance forces.

Kevin Moore, the company's director, said it wished to share the difficulties they faced.

More than 500 young people in Buon Ma Thuot town in the Central Highlands province of Dak Lak participated in a meeting on May 19 to discuss the country's sovereignty over its islands.

Lam Dong Province authorities gave VND200 million to residents in Ly Son Islands in the central province of Quang Ngai for improving their lives.