So far this year dengue fever outbreaks nationwide have sickened 55,430 and claimed 42 lives, officials said. Therefore, the country needs to strengthen measures to limit the outbreak of the disease.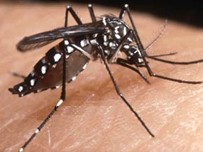 The dengue virus is spread by the mosquito Aedes aegypti.
The worst affected region was the Central region, Central Highlands and Mekong Delta.
According to centers for Preventive Health in locals, this year's massive outbreak was fuelled by poor mosquito eradication efforts.
To combat and control the disease, Prime Minister Nguyen Tan Dung September 18 asked provinces and cities to implement preventative measures such as conducting environment sanitation and mosquito extermination.
Health authorities should work together with local people to raise their awareness of dengue problems and advise them to eradicate mosquitoes around their homes, officials said.
In addition, people should follow the health sector's recommendations, such as sleeping in anti-mosquito nets, using traditional methods to exterminate mosquitoes and sending affected persons to hospitals as soon as infection occurs.
Hospitals need to prepare enough medicines and sickbeds to treat inpatients.