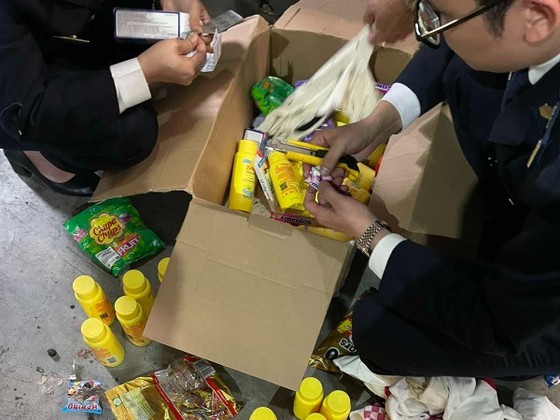 Customs officials detect drugs disguised under bags of chocolate candy
On the evening of January 18, the Customs of Vietnam informed that the Hanoi Customs Department coordinated with responsible forces to bust the trafficking case by air, arresting one person.
Specifically, the Drug Prevention and Control Team under the Hanoi Customs Department discovered a shipment of 8 packages with a total weight of 154kg sent from the Netherlands to Hanoi-based Noi Bai airport. Customs officials suspected the batches to contain drugs.
So, the Hanoi Customs Department actively coordinated with the Drug Crime Investigation Police Department (PC04) under the Hanoi City Police and related agencies to verify the information.
Accordingly, the Hanoi Customs Department coordinated with the Division 3, Team 5 under the Anti-smuggling Investigation Department under the General Department of Vietnam Customs, the PC04 of Hanoi City Police and the PC04 of Bac Ninh Province's Police arrested 1 person who was trafficking and transporting narcotics. Police officers seized a total of 6,790kg of ketamine and 51,788kg of MDMA, a synthetic drug that acts as a stimulant and hallucinogen. The drugs stored in plastic bags were carefully hidden in bags of chocolate candy packed in cartons.
The Hanoi Customs Department has handed over the trafficker and exhibits to the PC04 - Bac Ninh Provincial Police for further investigation.