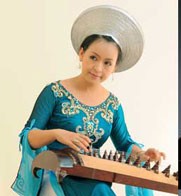 Zither artist Hai Phuong
The third 'Zither Festival 2012' will open at the Labor Cultural Palace in Ho Chi Minh City on September 21.
Professor Tran Van Khe-great master of traditional Vietnamese music and a famous zitherist will be joined at the event by well-known artists Hai Phuong, Hong Hanh, Hong Nga, Japanese artists Toshiko Nagase and Kenzan Nagase.
After the special performance at the opening ceremony, the artists will hold another show at Professor Tran Van Khe's house in Binh Thanh District on September 22.
The Vietnamese zither (Dan Tranh) is also known as Dan Thap Luc or sixteen-stringed zither. It has a trapezium-shape and is 110-120 cm in length. The large end is 25-30cm in width with holes to hang the strings. The narrow end is 15-20cm in width with 16 tuning keys on the surface of the instrument. The strings were once made of silk, then copper and now steel.
Players use all fingers with plectrums on the thumb. The music of the Dan Tranh is usually lively and full of cheer. The instrument is often performed solo or in concert, accompanied with poem chanting, songs, or performances of traditional orchestra.