Even though the Cai Luong theater is continually facing difficulties in attracting audiences, many young people today remain dedicated to this traditional southern folk opera style and are optimistic of its future.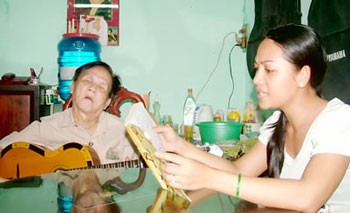 Young girl taking Cai Luong singing lessons from musician Van Ben.  (Photo: Sggp)
Famous veteran Cai Luong actors and actresses such as Bao Quoc, Minh Vuong, Ngoc Giau, Thanh Nga, Le Thuy and of the younger generation, Kim Tu Long, Thoai My, Tan Giao and Vu Luan were introduced to Cai Luong early in life.

Actor Bach Long, head of the Bach Long Dong Au Club, which produces many new and young Cai Luong artists, believes that this form of art has recently begun to attract more young people who can certainly make a mark if they train and practice hard to perfect the art form.

Young Cai Luong artists can win devotees' hearts by their own renditions which are natural and not influenced by other famous voices, added Cai Luong musician Van Ben.

According to experts, more training should be made available to nurture rising young talents in this traditional music form. For this reason, the Tran Huu Trang Cai Luong Theater cooperated with the Ho Chi Minh City College of Culture and Arts to open Cai Luong courses for young people in 2010.
Director Huynh Mai, head of the Department of Art of Tran Huu Trang Cai Luong Theater hopes that there will be several promising talents emerging by 2012.

Artist Linh Huyen, a well-known scriptwriter and head of the Kim Chau Cai Luong Theater has also discovered and trained some young talents at the theater.

The annual Cai Luong singing contest titled Chuong vang vong co (Vong co golden bell) and Bong lua vang (yellow rice paddy) organized by Ho Chi Minh City Television and Voice of the People of Ho Chi Minh City, FM Channel attracted thousands of contestants.

Besides discovering young talent, the competition also aimed at keeping alive the tradition of Cai Luong and fostering love for this traditional folk opera style among young people.