The production team of music video "That bat ngo" (what a surprise!) won three highest prizes at the Devotion Music Awards 2016 which ended in Thanh Hoa Province on April 24.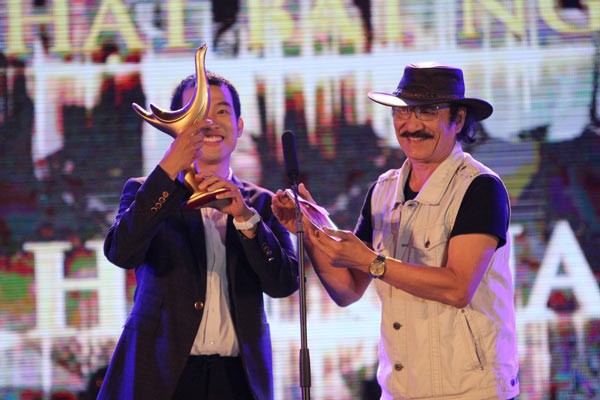 Musician Mew Amazing (Duc Hung) (L) receives an award. (Photo: Sggp)
The group was awarded titles, Song of the Year, MV of the Year and Musician of the Year.

The MV "That bat ngo" (what a surprise!) written by Mew Amazing and performed by Truc Nhan exposes the current situation of the entertainment industry with humor, vivid and charming images.

Mew Amazing whose real name is Duc Hung is one of the young promising musicians. His song gives a deep impression to listeners and the music market last year.

The organizers also awarded titles, Album of the Year and New Artist of the Year to musicians Giang Son and Tien Tien respectively.

The "Program of the Year" went to the international Monsoon Music Festival,  and the "Live show of the Year" belonged to singer Tung Duong.  Son Tung M-TP got the "Singer of the Year".
 
Devotion Music Awards is an annual event which is organized by the Sports and Culture Newspaper. The awards are selected by journalists from different newspapers and magazines throughout the country.