The Australian who won the Vienna International Guitar Festival will give a recital at the Phu Nhuan District Cultural Center's Guitar Club in Ho Chi Minh City on Tuesday night.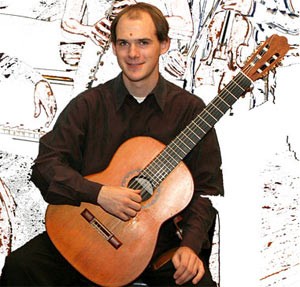 Australian guitarist Harold Gretton
Harold Gretton will perform works by Villa Lobos, Ross Edwards, Antonio Jose and Luciano Berio as well as several Australian folk pieces.
Born in Canberra in 1984, Gretton took up the guitar at the age of seven and went on to study under the Australian greats Carolyn Kidd and Timothy Kain.
He and some friends at the Australian National University's School of Music won the chamber music division of the Newcastle International Guitar Contest in 2004 and the Australian National Eisteddfod in 2003.
After graduating with honors, Gretton won a first prize in the International Competition of 20th Century Guitar Music Interpretation in Italy in 2006.
These days he plays in a Canberra outfit known as "Guitar Trek". His Viet Nam visit comes straight after a successful tour around Europe.