Writer Nguyen Quang Sang passed away in his home in Ho Chi Minh City at 4:15 p.m. on February 13 at the age of 82.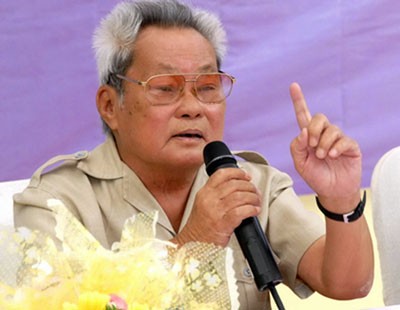 Writer Nguyen Quang Sang (Photo:SGGP)
The writer passed away during an after-lunch nap in his home. His will expresses desire for a cremation, said family members.
Sang was famous as an outstanding writer and director. He contributed many works to Vietnam's Literature such as 'Dat lua' (Land of Fire), 'Chiec luoc nga' (The Ivory Comb), 'Mua gio chuong' (Changing Wind) and famous movie script 'Canh dong hoang' (The wild field).
During his career, Sang received a host of awards including the Ho Chi Minh Prize.
Sang was born on Jan. 12, 1932 in My Luong Commune, Cho Moi District, An Giang Province.
In 1946, he joined in the Vietnam's army. In 1955, Nguyen Quang Sang moved to Hanoi and worked at Voice of Vietnam Radio.
In 1958, Quang Sang worked as an editor at Vietnam Association.
After Southern Liberation Day on April 30, 1975, the writer returned to Ho Chi Minh City and became Chairman of the Ho Chi Minh City Association of Literature.
Sang held various important positions including Deputy Secretary General of the Vietnam Writers' Association, Vice Chairman of Literature and Arts Association of Ho Chi Minh City, Chairman of Literature and Arts Association of An Giang province.
He was the member of Vietnam Communist Party with a 60-year membership badge.
The funeral service of Sang will be held at 25 Le Quy Don Street, District 3 at 10 a.m. on February 14. His cremation will be at Da Phuoc Cemetery, Binh Chanh District on February 16.