To celebrate the 200th anniversary of Oktoberfest, Windsor Plaza Hotel and the German Business Association are teaming up for the 6th year to host Saigon's biggest festival, Oktoberfest 2010.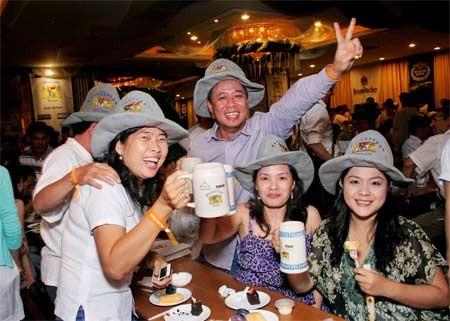 The Oktoberfest at Windsor Plaza Hotel last year (Photo courtesy of the hotel)
Continuing a 19-year tradition of bringing the spirit of Munich to the heart of Saigon, the Jade Ballroom at the Windsor will be transformed into a German-themed venue. 
Due to public clamor, Trenkwalder, a native Bavarian band, will be returning for the third year to entertain guests and get the crowd on their feet with rockin' versions of traditional songs. 
 
To cherish the excitement and Oktoberfest fever, each guest will receive a free souvenir beer stein and can participate in traditional German games and lucky draws.
Enjoy incredibly wide choices of delectable German delicacies such as sausages, sauerkraut, pork knuckle, pretzels, potatoes and a lot more. 
 
At the party, guests can enjoy Krombacher draught and Schneider Weisse beer or visit private champagne bar for schnapps
 
The party will be from October 8th through 10th, and again from October 13th through 16th. Every evening the festivities begin at 6:30pm and run till late.
 
Oktoberfest 2010 is proudly supported by diamond sponsors: Bayer, Tanner and Metro Cash & Carry Vietnam.
 
Last year's Oktoberfest saw over 12,000 guests.