A wedding fashion show featuring more than 100 designs will take place in the coastal city of Vung Tau in Ba Ria-Vung Tau Province on July 23-24.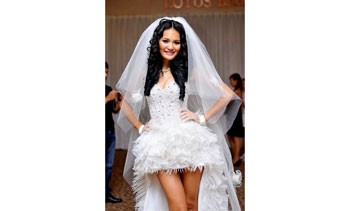 Miss Grand Slam Asia 2009, Huong Giang.
Well known wedding gown boutiques and designers such as Angel Kim, Viet Hung and Kelly Tran are expected to lure visitors with their latest collections.

Miss Grand Slam Asia 2009 Tran Thi Huong Giang, top models like Anh Thu, Duong My Linh, Trang Nhung, Ngoc Quyen, Thuy Linh, Thanh Thuc and Khoi Nguyen will join the event.

An exhibition of wedding bouquet arrangements and a seminar on hairstyles and make-up trends will be organized during the show.

In related news, Dep (beauty) magazine will present a fashion show titled "Scent" at Nguyen Du Indoor Stadium in Ho Chi Minh City on July 23.

"Scent" will be the first performance of a series of fashion shows called "Eau de Fashion Runway".

"Scent" is divided into four parts namely; casual, cocktail, Mix 'n' Match and Glamour and will feature collections by 10 young designers.

A team of young directors comprising of general director Ryan Kn, sound and picture director Nguyen Tuan Khanh and choreographer Nguyen Phuc Hung of the Ho Chi Minh City Ballet and Symphony Orchestra and catwalk director-model Xuan Lan will take part in the show.

Dep Magazine's "Dep fashion show" is a well known annual fashion event. Started in 2004, "Dep Fashion Show" showcases local and foreign fashion designers in the country.