The Thang Long-Hanoi website of the Vietnam News Agency (VNA) officially launched its Japanese language version on August 3.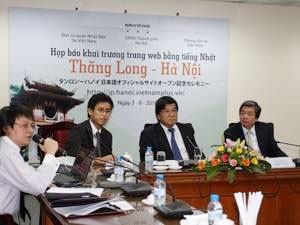 Press conference on launching Thang Long - Hanoi website.
The website now has information in five languages - Vietnamese, English, French, Spanish and Japanese, just four months after inauguration.
The version, available at http://jp.hanoi.vietnamplus.vn will provide details of activities to mark the 1,000 th anniversary of Thang Long-Hanoi as well as information about Hanoi .
It will also include useful information on Vietnam for Japanese readers.
As Japanese people love Hanoi and want to learn more about the capital city of Vietnam , a website in the Japanese language is the most effective way to bring them to Hanoi , Japanese Ambassador Sakaba Mitsuo said at the function.
He also spoke highly of the efforts of VNA and VietnamPlus, VNA's e-newspaper, in building the website.
Chairman of the Hanoi People's Committee Nguyen The Thao said he believed the multilingual website would make a difference, helping to enrich forms of information access on Thang Long-Hanoi and attract more readers to the site.
According to VNA Vice General Director Ha Minh Hue, despite difficulties with a Japanese language editor shortage, the agency has worked hard to launch the site, considering it an initial step for future media products in the Japanese language.
VNA's Vietnam Pictorial website currently runs a Japanese version.