Vietnam's Thang Long Puppetry Theater has won recognition by the India-based Asian Book of Records for "being the only theater in Asia that performs water puppetry all 365 days of the year".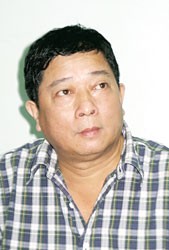 Theater director  Nguyen Hoang Tuan
This is a great encouragement for artists performing for the Thang Long Puppetry Theater as traditional stage art in Vietnam is already under threat.
Saigon Giai Phong had a talk with the theater's director, Nguyen Hoang Tuan, and asked what had brought about this remarkable success.
Tuan recalled that when the old director decided to perform puppetry in the theater, he faced many difficulties at that time but tried to overcome them.
The theater leaders tried to increase the number of actors and also to raise the performance quality to satisfy audiences.
At first the theater had only 12 actors and actresses but now has 40 experienced and talented artists and a variety of traditional musical instruments.
The theater leaders made concerted efforts to improve the skills of artists and for them to perform 15 days a month for a salary of around VND20 million (US$949) per month.
Tuan said the Thang Long Puppetry Theater has been enjoyed by hundreds of thousands of visitors, mostly foreigners, who want to explore Vietnamese culture.
Children too enjoy the show on Sunday mornings at special discount tickets.
Leaders have scratched their heads over creative techniques to draw audiences to the theater, Tuan said. He expressed his thanks to the tourism sector and embassies for their support in introducing this artistic form to foreign holidaymakers who visit Vietnam.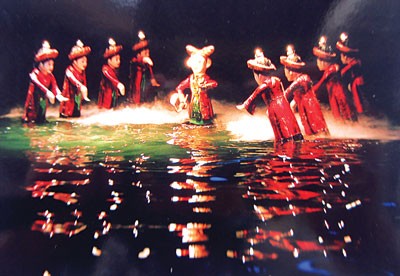 A puppetry shows of Thang Long Theater (Photo: SGGP)

Foreigners do not only watch the water puppetry performance but also learn more about Vietnamese culture and traditional arts.
In addition to hundreds of successful traditional performances, artists have invented new programs as well. Puppetry performances have been adapted from nearly 400 folk tales, depicting the history of Vietnam and people's daily lives.
Tuan said he is truly proud of Vietnamese folk art that is unique in style and very attractive to foreigners. Some foreigners watch puppetry shows several times and say they do not get bored but are more intrigued and surprised at how wooden puppetry can be performed so animatedly underwater.
Through this form of entertainment they come close to understanding Vietnamese culture, costumes, customs as well as Vietnam's wet rice civilization and its history.