Vu Xuan Tuu won the first prize of the short story contest 2005-2006 organized by the Military Art Magazine, aiming to celebrate the golden jubille of the magazine's debut (1957-2007) with three short stories "The story in mountainous village Piat", "The secret of a family annals" and "Cong ho".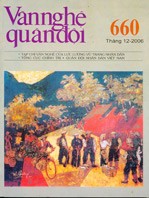 The military art magazine
There were also three second prizes, four third prizes and several consolation prizes.
After two years with three composing camps organized in Vinh Phuc, Da Nang and Binh Duong, the organizing board received 2,123 entries of 1,106 writers nationwide.
The entries of the contest primarily focus on the wars and revolution and the spiritual beauty of soldiers in peacetime.
It is a prestigious contest organized every year aiming to enhance the quality of short story on the magazine, introduce best works to readers, discover and encourage young writers.
Besides, the organizing board also awarded "Notes" prize to writer Ha Nguyen Huyen, "Poetry" to Tran Minh Tao, "Fine arts" to painter Van Da, "Criticism" to Nguyen Dang Bay and "Music" to musician Doan Bong.