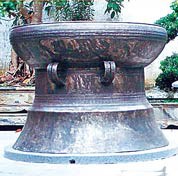 The bronze drum on display
The Hoang Long Museum of Antiques in Thanh Hoa Province is showcasing a bronze drum described as the biggest in the nation.
Artisan Le Van Bay and his co-workers in the northern province have created the drum, which is a copy of Ngoc Lu, Viet Nam's most famous bronze drum type.

The drum measures 1.21 meters in height and 1.51 meters across. The surface features scenes of ancient Vietnamese culture like people dancing and singing, grinding rice, flamingos, with all carved thoroughly and in a sophisticated style.