The Embassy of Denmark in Hanoi and the Ministry of Culture, Sports and Tourism once again will join hands to host a workshop within the Danish supported project, "Dialogue amongst cultural decision and opinion makers," during two consecutive days, beginning May 13, at the Hilton Hanoi Opera Hotel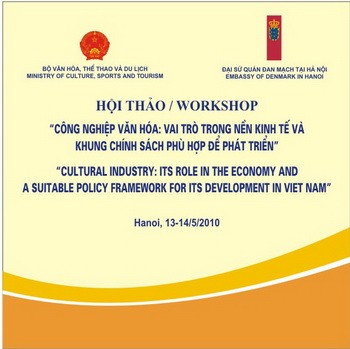 The third workshop jointly held by Denmark and Vietnam will be launched on May 13 and remain open till the next day, featuring topics related to cultural industries (Photo: Embassy of Denmark)
Participants in the workshop are leaders from the Ministry, representatives from cultural institutions, arts associations, media, NGOs, cultural researchers, lecturers and local artists. 
This year's workshop titled, "Cultural Industry: its role in the economy and a suitable policy framework for its development in Viet Nam," aims to create a forum for dialogue, discussion and the sharing of experiences on policies to support cultural industries amongst policy makers, managers and researchers from Vietnam and Denmark, within the context of globalization.  The workshop is expected to provide a reference for Vietnamese policy makers to develop supportive policies and mechanisms to promote cultural arts. 
The first day is scheduled to kick off with two presentations by Danish expert Mr. Jens Nielsen. The first is titled "Cultural Industry: its role in the economy and policies for its development," which he divides into three parts (the world in general, Europe, and Denmark specifically). The second presentation focuses on "Experiences and practical lessons of Denmark in building up policy for the development of cultural industry".  
The opinions of two Vietnamese keynote speakers, Dr. Nguyen Van Tinh and Dr. Luong Hong Quang, are sure to enhance the workshop.  The two noteworthy minds are scheduled to lead respective discussions regarding "Creative industry in Vietnam: current situation and suitable policy for its development," and the "Role of creative industry in economic development in Vietnam".  
The second day will feature case studies for the creative industries of Vietnam and will be led by BHD Co. and VinaGame Software Co. Their presentation will be followed by discussion sessions focusing on possible solutions and suitable policies for the development of cultural industries in Vietnam. 
The inaugural workshop was organized in 2007 with the theme "Cultural identity and diversity" where a Danish specialist was invited to present a research paper entitled "cultural policy and development trends", together with two other presentations from Vietnam. The second workshop, with its the theme "Models for art funding," took two years to develop. Once again a Danish expert was invited to give a presentation on the subject based on experiences accrued Denmark.  
The current project, "Vietnam – Denmark Development Cooperation in Culture", based on the strategy set out in the Danish Strategy for Development Cooperation 2006-2010 with Vietnam. The strategy seeks to promote creativity and people's access and participation in the arts, as well as diversity within Vietnamese society.  The development objective of Development Cooperation in Culture is: "People in Vietnam have access to and participates in arts that are culturally diverse".