More than VND1 billion will be invested in a cai luong (southern folk opera) play titled Kim Van Kieu on show at the Military Zone 7 indoor sport stadium in Ho Chi Minh City from February 22 to 24.
The play is adapted from Truyen Kieu (The tale of Kieu), a masterpiece by Vietnamese great poet Nguyen Du (1766-1820), by directors Hoang Song Viet and Hoa Ha.
The 150-minute show is divided into 7 scenes, including Kim Trong meeting Thuy Kieu, Vuong Thuy Kieu in distress, Thuy Kieu in the brothel,  Thuy Kieu in Thuc Sinh's house, Thuy Kieu meeting Buddhist nun Giac Duyen, Thuy Kieu meeting Tu Hai and Tu Hai trapped by Ha Ton Hien.

On stage will be more than 400 artists, including such big names in cai luong as Diep Lang, Minh Vuong, Le Thuy, Vu Linh, Phuong Hong Thuy, Ut Bach Lan, Bao Quoc, Hoai Linh, Thanh Thanh Tam, Trong Huu, Thanh Ngan, Thoai My, Kim Tu Long, Phuong Hang, Kim Tieu Long, Vu Luan, etc and dancers, Ho Chi Minh City Symphony Orchestra, singers Huong Lan, Giao Linh, Phuong Thanh, Thai Chau, Thu Minh, Duc Tuan and so on.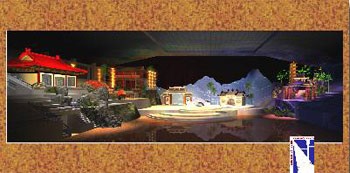 The model of stage

The show will be supported with modern audio and lighting systems. Architect Minh Tuan will design settings and choose colors for the play, fashion designer Sy Hoang will be in charge of the wardrobe while meritorious artists Tran Vuong Thach and Thanh Hai are responsible for music.
Artistic advisers are Prof. Dr. Tran Van Khe, People's artists Quang Hai and Huynh Nga, meritorious artists Doan Ba and Le Duy Hanh. The director-general is Hoa Ha.
A festival presenting cultural activities including folk games of learning about Truyen Kieu, food festival, and many more will also be organized at the court of the Military Zone 7 indoor sport stadium during the three days of the play, Director of Tran Huu Trang Theater Quoc Hung said.
The play is jointly organized by the Ho Chi Minh City TV and Tran Huu Trang Theater. Audiences can visit www.kimvankieu.com to get more information about the play.