A programme of Vietnamese poetry and a painting exhibition opened in the Centre for Vietnamese Culture in France on July 2.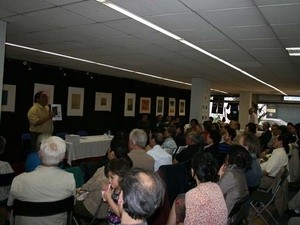 Vietnamese poetry and painting are displayed in France.
The poetry programme entitled "Vietnam Poetry in the 20 th century" introduced works by famous poets including To Huu, Che Lan Vien and Han Mac Tu.
Literary critic Le Quang Trang gave a brief review on Vietnam's poetry in the 20 th century.
At the painting exhibition "Vietnam Homeland", 39 paintings by Do Duc and Le Huy Tiep are on display.
Tiep works are in monotyping, engraving, screening-printing, woodcut and lithography.
His woodcut paintings depicted colourful life of Vietnamese ethnic minority groups, which are attractive to researchers and foreign visitors.