State-owned mobile operator VMS and the Tu Van ad agency have respectively won the television commercial and outdoor advertising categories of the Vietnam Creative Advertising Awards.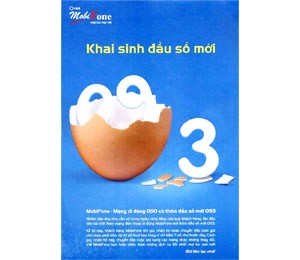 The ad of VMS about the new 093 phone number ( Photo:T.Hau)
VMS, or the Mobile Telecom Services Company, scored its prize for a commercial about the new 093 phone number, while the winning outdoor ads from the Tu Van Advertising Broadcast Company were for Izzi-brand milk.
In all, 19 of the more than 100 nominations from 30 firms earned prizes for their creators.
The award presentation was held on Sunday at the Ho Chi Minh Opera House and was the final act of the inaugural "Viet Nam Advertising – Innovation and Development" exhibition.
Ten agencies of the Ho Chi Minh City Information and Culture Department and 68 commercial enterprises took part in the exhibition organized by the department's parent ministry.
More than 6,000 expo visitors were treated to displays of the advertising industry's achievements in Viet Nam and what its numerous practitioners have to offer.