Ridgeback dogs that live on the Vietnam's biggest island of Phu Quoc are attending the Fédération Cynologique Internationale (FCI)  World Dog Show 2011 in Paris from July 7-10.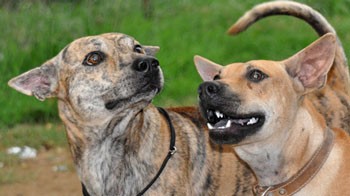 Phu Quoc dog, Dom (Spotted) (L) and her son, Tom (Photo: Tuoitre)

Dom (Spotted) and Ven (Striped) are pets of two handlers in Ho Chi Minh City.
They will compete with hundreds of dogs from more than 130 countries in an international dog show celebrating FCI's 100th founding anniversary.
The World Dog Show has been held annually since 1971. The competition is judged for agility, obedience, junior handler and various other demonstrations.
At the international dog show held in Anvers city in Belgium in July 1994, two Phu Quoc dogs Xoai (Mango) and Chuoi (Banana) were priced at 25,000 Belgian francs, 200 – 250 times more expensive than other contestants.
Phu Quoc dogs are one of the world's three rarest dogs with whorls on their backs. They are excellent hunters, unafraid of heights, intelligent and fiercely loyal yet very trusting of strangers hence they make poor guard dogs.
According to dog experts, the Phu Quoc ridgeback dog was traditionally in four main colors: spotted, black, yellow and striped; however now over the years the colors have become mixed and varied. A mature dog is about 20-25kg, with a small head, quite a long snout and thin pointed ears. The dog's tapering belly, straight legs and "duck-like" toes allow it to swim and run exceedingly well.
The residents of Phu Quoc Island are proud of this rare and valuable dog, regarding them as faithful and close friends. Visitors to the island always want to see and take home a dog, but breeding them is not easy away from their native habitat.