Photographer Tran Thiet Dung from the central highland province of Lam Dong won the first prize for his picture "Being ecstatic" at a   photographic contest themed "Vietnam's Four Seasons".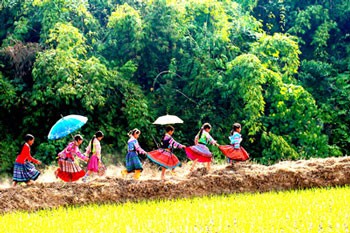 Photo titled "Enjoying the spring" by Nguyen Van Thuong
Two second prizes went to Nguyen Van Thuong and Nguyen Quoc Huy for their photos "Enjoying the spring" and "Speed".
Dung will receive a free five day tour of Hong Kong and Macau (China) as a first prize, while Thuong and Huy will receive a four day tour of Singapore as second prize.
Free tours of Cambodia and Nha Trang were offered to the three third prize winners and five encouragement prizes were also offered by Viet travel Tourist Company, the main organizers of the contest.
Viet travel Tourist Company launched the contest two months back, receiving more than 1,600 photos from 242 photographers throughout the country.