Pham Sanh Chau, General Secretary of the Vietnam National UNESCO Committee, informed March 9 that UNESCO has recognized the doctoral steles at Van Mieu-Quoc Tu Giam (Temple of Literature) in Hanoi as world documentary heritage.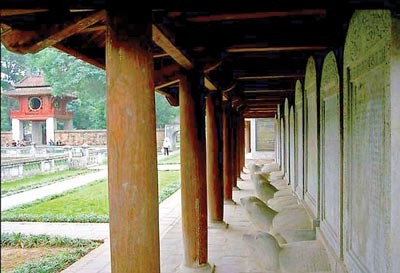 The doctoral steles at the Temple of Literature in Hanoi are recognized by UNESCO as world documentary heritage
Mr. Chau said the committee had voted in favor of eight out of 12 documents provided for UNESCO consideration at its annual conference in Macau, China.
One of the eight documents concerns the stone stele of doctoral graduates during the Le-Mac dynasties (1442-1779).
Eighty-two stone steles at the Temple of Literature are the sole doctoral steles in Vietnam and the world, and record the history of dynasties' doctoral exams and philosophies on utilizing talent, education and training.
The unique features of the steles are their written content, the outlining of building conditions, historical values, art and social influence.
They not only record the names of people who passed doctoral exams during nearly 300 years from 1442 to 1779, but also reflect life, society, political context, and the spirit of previous centuries.
Each line on the 82 steles serves as precious historical material for studying Vietnam's well-known intellectuals including Nguyen Trai, Ngo Si Lien, Nguyen Quy Duc and Dang Dinh Tuong.
The steles also serve as works of art, featuring sophisticated and unique designs.
Fine art scholars consider steles important documentation for studies related to the history of Vietnam's fine art and sculpture in the 15th to18th centuries.