Ho Chi Minh City Television has taken worldwide rights for the hit Norwegian primetime shiny-floor format The Ultimate Entertainer and air the remake on weekly Saturday starting on April 19.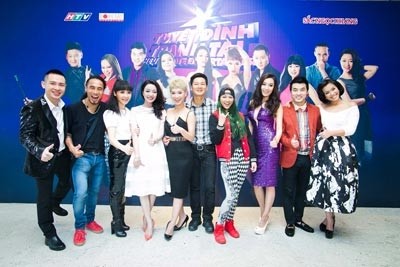 Singers join the Ultimate Entertainer.(Photo:SGGP)
Contestants are 10 singers including Duc Tuan, Phuong Vy, Tra My, Pham Anh Khoa, Ung Hoang Phuc, Minh Thu, Trang Nhung, Kimmese, Hoang Hai and Pham Thu Ha.
They will compete in ten different music styles such as pop, rock, R&B, folk and Opera.
Participants will work hard to adapt to the music styles, learn choreography and capture the correct visuals for the genre for ten weeks.
Viewers will vote for their favourite artist. Each week one artist will be sent of the competition.
Winner will receive a cash prize of VND400 million and the runner-up will get VND200 million.
The Jury includes singer Hong Nhung and director Le Hoang.
The Vietnamese version of the the Norwegian music entertainment format Ultimate Entertainer will be aired on HTV7, DRT and Giai Tri (Entertainment) TV chanels.