It is hoped that HCMC authorities will invest more in performimg arts to entertain foreign tourists

Preparation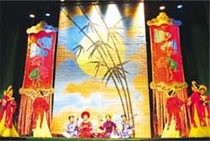 "The Picture of the Country" program
In October 2005, the People's Committee of Ho Chi Minh City ordered that the Department of Culture and Information, and the Department of Tourism should work with the city's theatrical troupes to prepare programs of performing arts for tourists.

Young artists of Tran Huu Trang Theater then prepared two programs, the play "Da Co Hoai Lang", accompanied by dancers, and extracts of Cai Luong plays (a kind of traditional Vietnamese Theatrical Art) of "Luc Van Tien – Kieu Nguyet Nga", "Thieu Phu Nam Xuong" ("Nam Xuong Young Woman"), "Lu Bo hi Dieu Thuyen" ( Lu Bo wooing Dieu Thuyen).

Arts Organizing and Performing Company of Ho Chi Minh City prepared a performance of song and dance "Buc Tranh Que Huong" ("The Picture of the Country"), with 11 items, performed by more than 50 artists, singers and musicians.

Thirty artists of Vietnamese Opera Theater of Ho Chi Minh City rehearsed two extracts of Hat Boi (Vietnamese opera) plays "Chau Xan Ta Thanh Long Dao" and "Ta On Dinh Chem Khuong Linh Ta" ("Ta On Dinh beheading Khuong Linh Ta"). The program opens with the performance of a greeting dance "Bat Thien Vuong" ("Eight Heavenly Kings").

The Puppet Company, The Circus of Ho Chi Minh City and Bong Sen Theater also prepare attractive programs.

Waiting for approval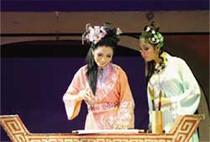 Performing artists My Hang and Thy Trang
Many theaters reported their work to leaders of Department of Culture and Information, and Department of Tourism, but there was no answer from the authorities.

Obviously, the introduction of Vietnamese performing arts to tourists helps promote the nation's cultural beauties. There should be good investment strategies of material facilities and program's content. The government should encourage the cooperation among Vietnamese enterprises to build performing locations.

Foreign visitors' ideas
Mr. A.Warren, an Australian cultural researcher, who came to Viet Nam to study the cultural interaction of adjoining countries along MeKong River, said, "We like traditional music performances for foreign visitors in Hoi An. They introduce Hoi An people and their characteristics".

Nigel, an English visitor, said, "In big hotels, traditional music performances are nothing special. It seems that you Vietnamese have not invested much on this tourist service".

Schoeder Peter, a German visitor, said, "We are very interested in Vietnamese water puppet. It looks fun!"

Leaders' ideas

Mr. Le Nhat Tan, vice manager of HCMC Tourism Department: A modern and large theater is badly needed.
"We need to build a large and modern theater to entertain tourist with well-directed plays. There are other areas, like souvenir shops, in the theater. Tourists can make up and wear clothing of the characters in plays, and take photographs. They will enjoy this"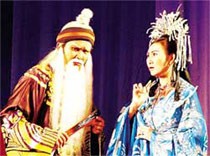 Performing artists Huu Quoc and Tam Tam

Mr. Vo Trong Nam, Head of Arts Management Office of Ho Chi Minh City Culture and Information Department: There should be majestic arts programs.



"Now, we haven't got any large-scale arts programs to satisfy tourists' demands. If we want to introduce performing arts to tourists, we have to invest much in the programs, which can be performed regularly. The southern tradition and history are much diversified. We should revive it with theatrical plays, such as "Quang Trung – Nguyen Hue", "Luc Van Tien"…

Playwright Hoang Song Viet of Tran Huu Trang Theater: Investment is needed in material facilities and the quality of programs.

"I think that Departments of Tourist, Culture and Information have to agree on how we introduce our performing arts to tourist and what we can do. In the long term, we need more theaters for different kinds of arts performances, because each kind has its own characteristics and requirements.

Mr. Nguyen Van My, Manager of Lua Viet Tourist Company

Thailand has just invested more than US$ 40 million in a theater which is used for tourist. It costs US$ 40 a ticket, but no tourist complains about it, because they really enjoy Thai special and typical cultural and arts performances.

Tourists want to learn about the country they visit. In China, tourist theaters are also invested seriously. Some theaters even have free admission.
Obviously, in addition to sightseeing, the study of national cultural identities through theatrical plays also appeals to tourists.

Mr. Cao Tung, an official of Ben Thanh Tourist: Vietnamese traditional performing arts need to be advertised to tourists.

Most tourists are satisfied with Viet Nam's landscapes, but they haven't got any opportunities to enjoy traditional arts through theatrical plays.

We should introduce Vietnamese traditional theatrical arts, such as Cheo, Cai Luong, Ca Tru, Hat Boi to tourists. Departments of Culture and Information and Tourism should work on advertisement, promotion and management. I hope that tourists will enjoy special arts performances in 2006.