A spinning top invented by a Vietnamese robotic firm has become the country's first toy to win World Guinness certificate for the longest mechanical running duration.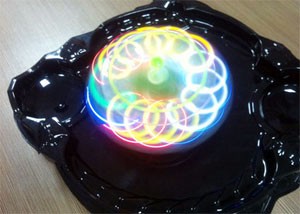 The spinning top from Vietnam's TOSY Robotics has won a world record for the longest running duration
The record spinning duration of 24 hours, 35 minutes and 15 seconds was set on May 23 at the Hanoi-based TOSY Robotics. The process was witnessed by six local notarizing officials, Tuoi Tre reported Tuesday.
Le Quoc Hung, head of Hanoi Notary Office, said that the Guinness World Records strictly required at least two independent notary officers to observe the spinning top at any time and the whole process had to be filmed constantly.
The video was then sent to Guinness experts in London to decide if the toy made a record, the report said, citing Hung.
Alexsandr Vypirailenko, a representative of Guinness World Records, said in a letter to TOSY Robotics that the company totally deserves the certificate for their interesting product.
Ho Vinh Hoang, general director of TOSY Robotics, said that the spinning top had been actually designed to run 60 hours and it did.
But the company had turned off cameras en route as the technologies at the firm do not allow such a long time of filming, Hoang said, adding that the Guinness officials earlier said that 24 hours is enough for the record.
He said the company engineers have spent many months creating dozens of different versions of the toy to figure out how to make it run the longest time on the least energy.
"The Guinness record has proved that our target is to create high-tech and innovative toys, which will help Vietnam's toys known better to the world," the director said.
He said the commercial version of the spinning top has been designed to run at the maximum four hours.
The toy will be launched on Vietnam market in August this year, by the children festival mid-Autumn which falls September, Hoang said.
TOSY spinning top, which has been made attractive with LED lights, imitates a Vietnam's traditional wooden toy popular between the 1970s and 1990s.
At a Hong Kong expo in January, "Tosy AFO Returning" functions like a boomerang stood out among more than 1,900 toy companies.
TOSY Robotics started exporting its products in 2010, with 500,000 Tosy UFO, which was later updated into AFO, sold to Turkey, South Korea, Hong Kong, Germany, Austria, Japan and Britain.
Around 210,000 of the toy were sold in Hanoi and Ho Chi Minh City during the last Christmas holiday.
TOSY Robotics is the first Vietnamese robotics firm that produces four types of products: gigantic robots, service robots, industrial robots and hi-tech toys.
An official with the Ministry of Industry and Trade said that Tosy products can compete well with those from China as they employ high technology that is difficult to fake.